Nearly 20 high profile players are on the list of documents linked to Mossack Fonseca as revelations continue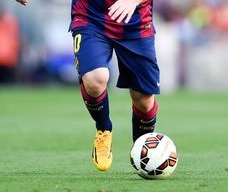 From the Icelandic Prime Minister to the President of Russia, there have been plenty of high profile leaders caught up in the Panama Papers controversy – however, the leaked documents also look set to tarnish the image of the so-called "beautiful game" of soccer.

The year-long investigation into the files of Mossack Fonseca, a Panama-based law firm that specialized in helping the rich set up offshore companies, has named a host of soccer players, club owners, agents and more: including some linked to the world's biggest clubs like Real Madrid, Barcelona and Manchester United.

Perhaps the most high-profile name on the list is the man deemed by many to be the world's best soccer player, Lionel Messi. The Argentinian Barcelona star, who has been named as the world player of the year on five occasions, has been riled in controversy in recent times as he and Jorge Horacio Messi, his father, are already facing charges of using offshore companies in Uruguay and Belize to avoid paying millions in taxes in Spain. They face tax fraud charges having been accused of cheating the government out of $6.5 million although Messi has since paid back the taxes owed from 2007-2009 and denied any attempts to deceive anyone.

Now, according to a report in The Star, the Panama Papers reveal that Messi owned an offshore firm in Panama with his father, called Mega Star Enterprises. The papers reveal the first reference to the company occurred on June 13, 2013 – with the names of the Messis as owners appearing by June 23 of the same year, less than two weeks on.

Other names on the list includes at least 20 soccer club owners – including the heads of Boca Juniors and Inter Milan – and French soccer legend and former UEFA president Michel Platini. It is alleged that Mossack Fonseca helped Platini administer an offshore company back in 2007. Platini was recently banned from soccer for a six-year period following allegations surrounding a $2 million payout he picked up from FIFA back in 2011.

Among the other famous names on the list include Leonardo Ulloa, who plays for Premier League leaders Leicester City. He had his image and economic rights signed to Jump Drive Sports back in 2008 – but the New York based company was actually made up of two firms based in Samoa. The man who held its power of attorney, Jose Manuel Garcia Osuna, is currently facing charges of fraud in Spain.

Also named is Ivan Damorano, a soccer star in Chile who has now retired. He played for Real Madrid and his image rights were linked to Fut. Bam International, which has its base in the British Virgin Islands and named Zamorano as an owner.

Another top name on the list is Gabriel Heinze, the Argentinian former Real Madrid and Manchester United star. He is alleged to have created Gallana Mills Corp in 2005 – another company in the British Virgin Islands. It is reported that he picked up payments from Puma via the offshore firm.

What are your thoughts on the controversy and on soccer's involvement in the scandal? Leave a comment below with your thoughts.