If advisors want to boost their books and increase productivity they should focus on bigger clients and throw back the small fry, according to a new report.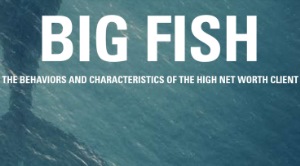 Many advisors spend a lot of time building their client books, hoping small-time clients will become big ones. But a report by Toronto research firm PriceMetrix suggests they shouldn't even bother with households that claim less than $250,000 in investable assets.
"[Advisors] need to set aside the belief that relationships with small households, properly cultivated, will mature into relationships with high net-worth households," the firm's latest report stated. "Such occurrences are too uncommon to merit an advisor's attention and resources."
Advisors often seek to acquire and keep small households in their books, believing that at least a few of them will acquire significant wealth in the future. However, PriceMetrix says the analysis in its report "Big Fish: The Behaviors and Characteristics of the High Net Worth Client," confirms that "the probability of a small household growing into a large one was minimal."
PriceMetrix data is based on a review of more than 200 million transactions across 20,000 advisor books in North America. The firm found no significant differences between the US and Canada and all data are combined.
Continued on p.2
#pb#
The firm says that whales and minnows don't mix, and an advisor's productivity can significantly improve by reducing a high concentration of small households and focusing on higher-income clients.
In its review of HNW households that have advisor relationships, the firm found very little evidence of upward mobility. Among HNW households holding $2 million or more in assets, 75% were already HNW category before beginning a relationship with an advisor. Another 18% of these began the relationship while holding $1 million - $2 million. Only 7% of HNW households began a relationship with less than $1 million in assets and a mere 3% began with less than $500,000 in assets.
Many advisor portfolios are concentrated in small households, those with under $100,000 in investable assets. But the average small household pays their advisor around $30 per month, which does not justify the expense of maintaining or servicing them, PriceMetrix said.
The survey also found that advisors would build relationships with HNW households – and decrease reliance on lower-income clients – as they gained experience.
Advisors with less than five years of experience averaged one HNW client providing a median of $6,000 in revenue. Advisors with 5-15 years averaged three HNW clients providing $50,000. Advisors with 15-25 years averaged five HNW clients providing $92,000. Advisors with more than 25 years of experience averaged eight HNW clients providing $123,000 in revenues.