Delayed retirement, escalating debt, and mental burnout among life-altering consequences uncovered in new survey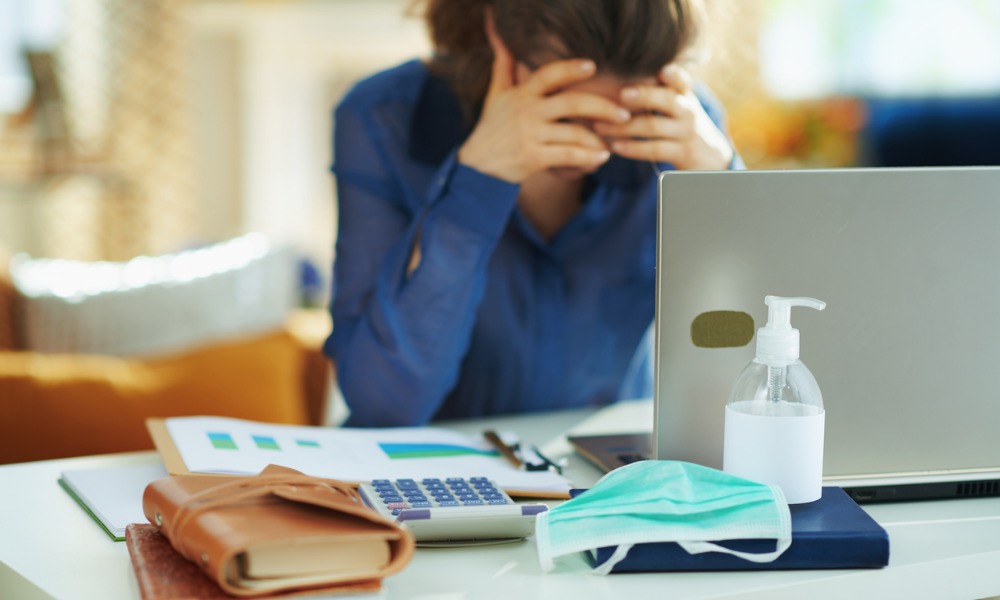 A year after business lockdowns and restrictions were first instituted across Canada to curb the COVID-19 pandemic, the country's independent business owners are still operating in an environment of little to no certainty. As entrepreneurs all over the country face potential long-term consequences from the outbreak, the Canadian Federation of Independent Business (CFIB) is urging the government to call a permanent end to lockdowns.
In a newly published report, the CFIB said that after a year of pandemic-driven challenges, just under two thirds (62%) of businesses are fully open, a little over two fifths (44%) are fully staffed, and less than one third (31%) have seen their sales rebound to normal levels.
"Despite being told lockdowns were a short-term measure to 'flatten the curve,' many small businesses—including those in Canada's largest city—remain locked down one year after COVID-19 began," said CFIB President Dan Kelly.
For nearly half of small business owners, the upshot of these obstacles has been a disruption of retirement plans, including two fifths (42%) who said they're putting off retirement and a much smaller minority (5%) who are retiring earlier than they'd intended. For many, getting out of the game early is a difficult decision, as 55% of business owners reported that their business's value has been eroded by months of COVID-19 restrictions.
"The impact on retirement plans underscores just how profoundly hard-hit small business owners and their families have been by this pandemic," said Simon Gaudreault, CFIB's senior director of national research.
The choice to keep going has also proven painful for 7% of business owners who reported having to dip into their nest egg to finance their business. Beyond that, the CFIB said that small businesses are now carrying over $170,000 in debt on average; among owners who have had to borrow money, three quarters (76%) said it will take more than a year for them to repay it, and 11% are concerned that they may never be able to pay it all back.
Beyond making investments to comply with safety protocols, much of business owners' financing effort has gone to pivoting toward a more digital mode of operation. Since the start of the pandemic, the CFIB said 152,000 business owners have entered the e-commerce market, resulting in a third of all small businesses now having an online sales presence. The largest adopters of digital technology have been retailers, arts and recreation facilities such as gyms, hospitality businesses, and health services providers – all of which have been hit by lockdowns the hardest.
"Many small businesses are no longer in business or are unsure of their future. CFIB itself has 15,000 fewer members as Canada enters a second year of the pandemic," Kelly said. "While CFIB is proud to provide any small business owner with free support until the pandemic is over, provinces need to ensure they find a way to end lockdowns for good across the country."
As of now, the CFIB said one in six small businesses – 181,000 in all – are at risk of permanent closure. Counting the 58,000 that were forced to become inactive in 2020, Canada stands to lose 20% of its businesses by the time the dust settles following the pandemic.
"It is well past time to shift gears as small firms have done more than their fair share in the fight against COVID-19," Kelly said. "Until vaccines are widespread, lockdowns should be replaced with rapid testing and contact tracing to allow all small firms to safely serve Canadians once again."