Big Bank's outlook warns new lockdown measures and slower population growth pose threat to economic output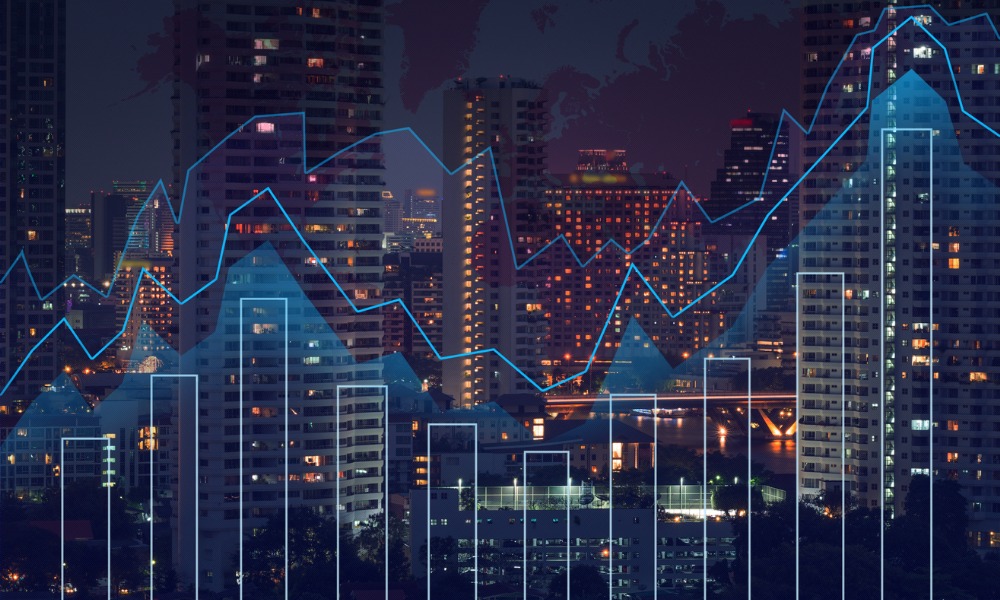 While the extraordinary COVID-19 pandemic support measures brought out by Canada's federal government and central bank have likely averted a total economic collapse, a new wave of infections threatens to lengthen a recession whose true extent is not yet fully understood.
According to a new Q4 provincial outlook released by Scotiabank Economics, the majority of Canadian provinces will suffer record contractions in output this year due to the pandemic. As new rounds of lockdown restrictions are put in place, the bank expects that provinces will suffer losses that will take years to recoup.
"The strength of the economic rebound since the peak lockdown period earlier this year has surprised on the upside," Marc Desormeaux, Senior Economist at Scotiabank, said in a statement. "However, with the arrival of a second wave and new lockdown measures to curb the virus' spread, COVID-19 continues to represent the primary forecast risk."
For now, the bank is assuming that the new lockdown measures enacted by provinces will be less harsh than the ones during the first wave. But it warned that if infection rates are not contained once more, those lockdowns could turn stricter and lead to economic contractions echoing those that occurred earlier this year.
"On the other hand, quicker-than-anticipated advances with respect to COVID-19 vaccine or treatment development and distribution represent upside potential for economies the world over," the report said. Initial evidence from jurisdictions such as Quebec and Ontario also suggests that assuming all things remain equal, severe lockdown measures that successfully tamp down infections lead to a significant bounce-back after the economy is reopened.
From a sectoral standpoint, the agriculture, professional, scientific, and technical services industries have held up comparatively well. However, the pandemic has taken an oversized toll on the tourism, oil, and gas industries, all of which have been kneecapped by decreased demand for transportation.
As the energy resource sector remains in the doldrums, net oil-producing provinces such as Newfoundland and Labrador, Saskatchewan, and Alberta face a rocky road to recovery. But while the report still expects a deep recession in Saskatchewan in 2020, its outlook for the province has improved due to its successfully limiting the spread of COVID-19.
Other success stories of COVID-19 containment have emerged from Prince Edward Island, whose small population and island status allowed it to begin reopening earlier than most other jurisdictions; Nova Scotia, which scored a "clear triumph" in controlling the first wave of infections," and New Brunswick, whose low COVID-19 infection rate during the first wave enabled less restrictive lockdowns and quicker reopenings.
And while Quebec had been undergoing a strong rebound off the back of an early post-first-wave reopening, it is now instituting a second round of lockdowns – which Scotia forecasts to last through December – as its COVID-19 case count surpasses other jurisdictions. Helping prospects of an eventual recovery, however, is the province's announced boost to capital outlays, its offering of the largest raft of provincial-level pandemic supports across Canada, and reasonably resilient finances owing in part to pre-pandemic debt containment efforts.
Like Quebec, Ontario is implementing a second round of containment measures, and is simultaneously loosening the purse strings to mitigate the pandemic's economic fallout. Its fusillade of support announced in August includes a range of economic development initiatives, municipal and transit infrastructure outlays, health care funding, and a $2.5-billion contingency in case of second-wave cost overruns – all of which are expected to result in a record $38.5-billion deficit and $397-billion net debt burden.
At the national level, Scotia said exceptional federal and provincial support measures have provided a much-needed cushion amid the unprecedented uncertainty fostered by the pandemic. But in determining when to unwind those supports, it said governments must consider whether the labour market has sufficiently recovered on one hand, and how to maintain longer-term fiscal sustainability on the other.
The report also warned of a weakening in "human stimulus" that, prior to the pandemic, had been propping up economies in provinces across Canada. Aside from supporting healthy employment gains, the strong influx of immigrants and non-permanent residents had been a key support to real estate demand as it successfully counterbalanced declining natural growth in the Canadian population due to aging.
"Immigration, still down by more than 60% y/y in many jurisdictions … has been the primary reason for the slowdown," the report said. "However, weaker international student flows and challenges admitting temporary foreign workers in Q2 also contributed to the largest quarterly net outflow of non-permanent residents since 2015."