Chief economist says Canada is now in the hot seat and an agreement looks closer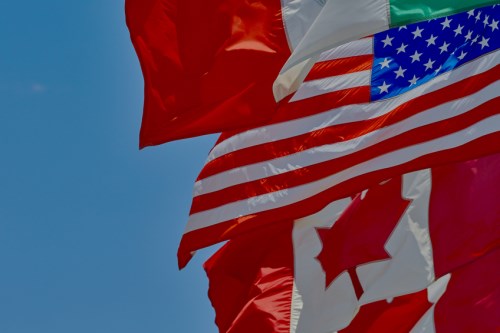 Canada is in the NAFTA hot seat and there's a 60% chance of a new deal being agreed, according to an industry expert.
Eric Lascelles, chief economist for RBC Global Asset Management, said the deal between the US and Mexico, which translates into a greater reliance on North American auto parts (75% minimum from a 62.5% minimum) and more use of the region's steel, is positive news because it shows the US is serious about a new agreement.
However, he said: "The US and Mexico are not quite done, in part because life would be much simpler, and their economies stronger, if Canada is included in any new pact, in part because Canada may not fully agree to the new proposals or to any Canada-specific demands made by the US such as concerning the dairy sector - in part because ultimately US Congress must approve the deal."
Lascelles said that while the White House will attempt to cajole Canada into hastily signing on to the US-Mexican deal under the threat of being excluded, this is not as big a deal as it may appear despite the threat of an auto tariff.
He said: "Our base-case scenario remains that Canada will ultimately be included in any new deal. The country will likely have to make some concessions – perhaps lowering barriers for the dairy sector and being more flexible about sunset clauses and dispute resolution mechanisms – but can more likely than not find a way to get a deal done.
"We now assign a 60% chance of a new NAFTA deal (though split between a 15% chance of the US 'winning' via additional embedded protectionism versus a 45% chance of a more mixed compromise deal), against a 15% chance of the trade zone being torn apart, and a 25% chance that the existing NAFTA ultimately survives. If this last scenario seems odd given recent progress, recall that ultimately the US Congress must approve any new deal."
One area of this trade saga that Lascelles called the "hidden dimension" is the duration of these tariffs, of which he says remarkably little intellectual capital has been dedicated to.
Lascelles said the duration of a tariff is no less relevant than the size in determining the total economic damage.
He said: "It is not possible to speak with precision, but for the most part we expect US tariffs to last for multiple quarters to multiple years. True, a few small items such as steel and aluminum tariffs on Mexico and Canada might be removed fairly quickly. But the China relationship will likely take some time to resolve given little visible progress so far.
"All the same, we do not believe these new tariffs are permanent. Whether they are ultimately unwound for reasons of economic expediency, because they are deemed illegal either nationally or internationally, or because another president will eventually occupy the White House, one way or another these tariffs will eventually go away."