A year after the floods Calgary advisor Bob Thompson gets the biggest party in the west underway.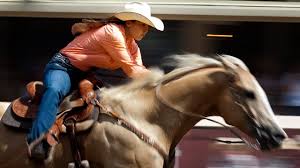 The Calgary stampede starts today. A year after the disastrous floods of 2013 the "rainfall warnings and weather advisories have ended for southern Alberta." This morning, at 8:00, Calgary is already 19 degrees with scattered clouds. That is, the winter clothes are put away. The hats and jeans are coming out. The annual spring fling that is the Calgary Stampede--the greatest outdoor show on earth--is getting underway beneath that amazing Alberta sky.
Stampede is an extremely quality party.
Epic, really
. It takes over the whole city. This year will be no different There is a talent search, Nashville North, a Reba McEntire concert, the rodeo and the carnival. But the real fun is at the endless number of private parties scattered across the city. The early morning pancake breakfasts are also a tradition, here's a
good one
.
Time to get down, winter is done. Best of all, the province is getting a reprieve from the flooding plaguing Manitoba and Saskatchewan. This is a welcome change from a year ago.
It was, of course, this time last year that the Stampede was in danger of being cancelled as floods ravaged Calgary. This time last year, president and chairman of the Stampede board, Bob Thompson rallied the troops, announced that Monday that the Stampede would run as scheduled.
"We will be hosting the greatest outdoor show on earth, come hell or high water," Thompson said then. Workers pumped millions of gallons of water from the facilities, scraped the mud from the tarmac, cleaned-up the site so that the 101st Stampede could go ahead.
"Throughout our entire history we have never cancelled a show, despite two wars and a Great Depression -- 2013 will be no exception," Thompson said. And he was right, the show went on. Hopefully Thompson will have a less-stressfull time this year.
For those who don't know, Thompson is the founder, president and CEO of Brownstone Asset Management, a Calgary-based investment counsel firm. Prior to forming Brownstone in 2003 Bob spent eight years with Bissett & Associates Investment Management Ltd. where he was a vice president and portfolio manager. He has volunteered with the Stampede since 1987; has been awarded the Queen's Diamond Jubilee Medal for community service; is a member of Calgary Economic Development's financial sector advisory committee. Hopefully this years' event will be more about fun, less about disaster recovery.
For a little inspiration, here's one from the grandson of the late great Hank Williams, Hank Willliams III,
live in Calgary
.