If he wanted to avoid market disruptions, the Bank of Canada governor couldn't have chosen a more perfect day for his inaugural policy statement.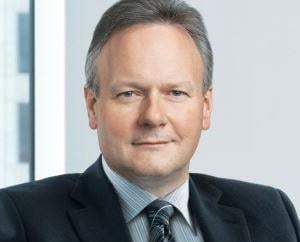 If he wanted to avoid market disruptions, Bank of Canada governor Stephen Poloz couldn't have chosen a more perfect day for his inaugural policy statement.
Partly, that's because markets were was too busy paying attention to Federal Reserve's chairman Ben Bernanke testimony before the US House Financial Services Committee to give Poloz any notice. But it also helped that the governor essentially reiterated his predecessor's comments on interest rates and Canada's economic outlook.
"As long as there is significant slack in the Canadian economy, the inflation outlook remains muted, and imbalances in the household sector continue to evolve constructively, the considerable monetary policy stimulus currently in place will remain appropriate," said Poloz.
"Over time, as the normalization of these conditions unfolds, a gradual normalization of policy interest rates can also be expected, consistent with achieving the 2% inflation target."
As expected Canada's central bank is maintaining its target for the overnight rate at 1%. The bank rate is held 1.25% and the deposit rate at 0.75%.
"A change at the top didn't really mean a change in view, with the Bank of Canada's latest statement showing no substantive change in view," said Avery Shenfeld of CIBC World Market Economics. "Overall, this really was neither more or less dovish than before, but the market had previously moved to price in small risks of earlier rate hikes that today's clearer language downplays."
"In Canada, economic growth is expected to be choppy in the near term, owing to unusual temporary factors. The overall outlook is little changed from the Bank's projection in April," Poloz said. Annual GDP growth is projected to average 1.8% in 2013, up from the 1.5% projection in the April monetary policy report.
Continued on p.2
#br#
Meanwhile in Washington, in what may be his last appearance before the House before he staps down in January, US Federal Reserve chief Bernanke said there would be no changes to US monetary policy. "With unemployment still high and declining only gradually, and with inflation running below the Committee's longer-run objective, a highly accommodative monetary policy will remain appropriate for the foreseeable future."
After freaking out last month after interpreting earlier comments as meaning an end to stimulus, markets reacted calmly on Wednesday after Bernanke committed – in a vacillating way – to maintaining the Fed's asset purchase program.
"On the one hand, if economic conditions were to improve faster than expected, and inflation appeared to be rising decisively back toward our objective, the pace of asset purchases could be reduced somewhat more quickly," Bernanke said.
"On the other hand, if the outlook for employment were to become relatively less favorable, if inflation did not appear to be moving back toward 2%, or if financial conditions – which have tightened recently – were judged to be insufficiently accommodative to allow us to attain our mandated objectives, the current pace of purchases could be maintained for longer."
Harry Truman would be disappointed about Washington's continued lack of a "one-handed economist."