An interesting debate took place at the most recent board meeting, apparently.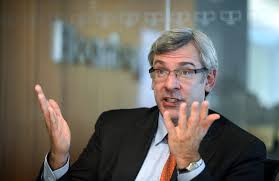 There has been a lot of talk lately about the course of this five-year long bull market. Markets are hitting record levels—the TSX touched another record high last week, NASDAQ has returned to 2000 levels—and so many wonder where things go from here.

Geo-political tensions are high and rising. As well, the threat of rising U.S. interest rates has some investors beginning to take some money off the table. A recent survey. found 27 percent of asset managers overweight cash in August, up from 12 percent in July. Cash now accounts for an average of 5.1 percent of global portfolios, an increase from 4.5 percent a month ago.

But as asset managers tighten up on the risk levels, it looks like an interesting new debate is taking place at RBC. According to a story running on the the WSJ's "Dealbreaker" blog this morning an "hours long" debate took place at the company's recent board meeting concerning the strategic direction of the bank.

Before he left recently-departed CEO Gord Nixon suggested the bank should not rely on proprietary trading from the company's capital markets division for more than 25% of earnings. According to Nixon, the reliance on real banking activities—like taking deposits, making loans—is one of the reasons the Canadian banks survived the 2008 meltdown as well as they did. To his thinking, banks that rely on trading bets to generate income are less stable.

But the most recent RBC earnings see the bank generating 27% of earnings from trading—that is, the bank is hitting the Nixon Limit. According to the WSJ when the new chief executive of RBC, David McKay, met with the board of directors for their annual offsite strategy session last month "they spent hours wrestling with the dilemma: how and whether to adhere to a pledge by RBC's previous CEO to limit capital markets' contribution to approximately 25% of total earnings."

Is McKay pushing to make the bank more like one of the big global players such as JP Morgan, UBS or Goldman (banks that rely on trading strategies to generate results)? We'll see. Interesting story line beginning to play out as McKay takes over at RBC.