Thinking of opening up your book to pro-athletes? This rookie 'baseballer' has lots to say when it comes to financial planning. So much so, you, the advisors, may even be impressed.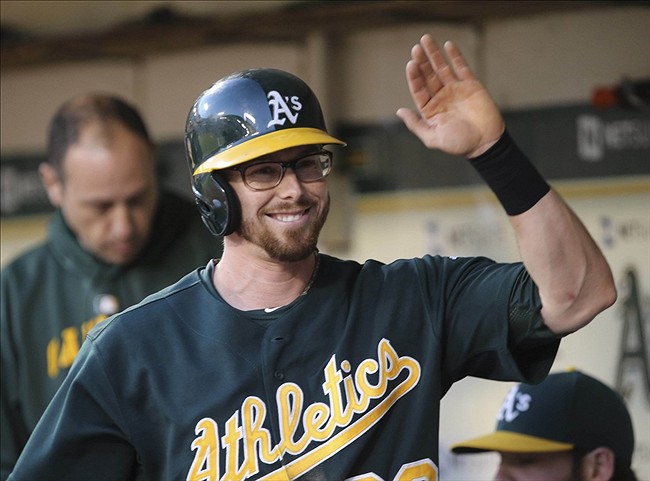 He may not hold MVP status just yet, but this rookie, glasses-sporting MLB player – nicknamed Nerd Power – is making headlines the fiscal way.
Runner-up on an online U.S. fan poll for the ##FaceofMLB last year, Oakland A's second baseman Eric Sogard - recently sat down with Nerdwallet.com – a website that helps consumers make smarter financial decisions – and made his pitch on how to achieve financial stability.
Here are some tips he shared:
Live within your means, set a budget and stick to it
According to Sogard, he and his financial planner, Brett Dimas of OFS Wealth, meet two or three times a year to review is spending and financial goals.
"When we've sat down and I didn't realize we were spending that much on a monthly basis, and it just kind of opens my eyes and my wife's eyes. We didn't think we were going too crazy but there's probably some place where we could cut back," he told Nerdwallet.com.
Take heed of those who came before you, learning from their financial successes and failures
Sogard's father happened to be a stockbroker who taught his son to research, be passionate, aware and cautious about any investment opportunity.
This is something Sogard takes seriously with stats from
Sports Illustrated
indicating that 78 per cent of ex-NFL players have gone bankrupt, are under financial stress, unemployed or divorced two years after retirement; and 60 per cent of former NBA players are broke within five years of retirement.
"We're all in the same situation as ballplayers, we all have the same goal – we want to continue to make money and invest smartly," Sogard said.
Have six-months-worth of emergency funds as back-up
Sogard and his financial planner take into account that he only works six months out of the year, with baseball being a summer game. His plan accounts foir this not only for the next year, but the next 50 years, particularly if Sogard doesn't plan to work once retiring from baseball.
"If you're going to go spend all the money you make during the season, you're going to be stuck in the offseason thinking of what you have to do for money because you blew it all," he said.
Choose your assets wisely and think long-term cash flow when investing
Sogard, who bought a house in Arizona as soon as he signed his first big-league contract, recommends real estate or dividend-paying stocks that can yield income through retirement.
"It's (buying property) been a great decision. I've been able to rent it out since then, and it's been a cash flow coming in," he said.
Depend upon a trusted, knowledgeable financial advisor
For Sogard, advice has come from, not only his dad, but his financial planner, Dimas, who manages his money and counsels him on sound investment decisions.
"You could make $100 million a year," Dimas told Nerdwatch.com, "but if you spend $120 million a year you're eventually going to end up broke."
Related Stories:
CFL players: Next in line to buy your book?
The next best investment: athletes
Athlete IPO back on the table?
Should you pitch to prospective clients at tee time?