How a wealth advisor and mom of four juggles business and car-pooling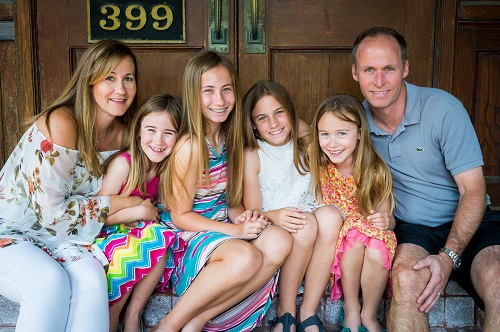 "Kids are part of the package," said Diane Nash, wealth advisor at National Bank Financial in London, Ontario. Nash who runs NASH Family Wealth Management together with her husband, Jay Nash, has been bringing their four daughters to client meetings since the eldest was just two weeks old, and she continues to plan meetings around her busy car-pooling schedule.
"My daughter had a squash tournament in Windsor so I arranged a meeting with a client who lives in Windsor before her games," she said. "It made sense as I was driving there anyway."
Nash finds the mobility of the wealth profession makes it possible to juggle family and career. She and her husband frequently take client calls from a squash club or from a soccer field, whilst watching their children play.
"Our kids attend open houses and client events and our clients are fine with it. A lot of them are in the same stage of life, or once were, so they understand," she added.
Nash grew up on a farm in south-western Ontario and always had an interest in finance although she had no idea there was a career in it at the time. After initially heading to Western University for occupational therapy, Nash realised it wasn't the right profession for her, so she took a different path, beginning her career as an assistant at ScotiaMcLeod in 1996.
She became an advisor at BMO Nesbitt Burns in 1999 and subsequently moved to Wellington West Capital in 2006 where she joined her client base with that of her husband when she was pregnant with their second child.
"When you're on mat. leave you have no earned income," said Nash. "Money is very subjective and emotional. If you're not available to help clients, it can cost you the relationship. Why would I put my long-term client relationships at risk when my husband could maintain communication and oversight? We were in a unique position that just made sense for our family," she added.
Working with her husband means Nash's marriage is entwined in her professional career but they make it work by delineating their roles and avoiding shop talk on Saturdays and Tuesday evenings.
The greatest reward for Nash is when clients are able to retire in a secure financial position, as a result of the life plan she created for them. She recently sat down with some clients for whom she had set up a plan two years ago, and after going through their finances found they are now able to retire in a very comfortable position.
"They told me it was the best decision of their lives," said Nash. "I drove out of there on cloud nine."
"It's easy for me to come to work every day because I love what I do."