HSBC Bank Canada unveils humanoid robot Pepper and tells WP it will free up staff to offer more advice to clients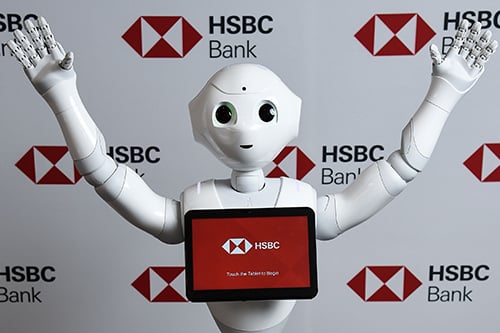 At first glance, it looks like an extra from the movie I, Robot. But rather than a dystopian nightmare, this humanoid robot dispenses information about TFSAs and RESPs, providing a fresh client experience to HSBC Bank Canada customers.
"Pepper" is based at its main branch on York Street, Toronto, and is the first example of a major bank using a customer service robot in Canada. It will not perform any transactions or offer investment advice but it is designed to educate and provide details about products, while also directing you to a staff member for specific services.
Created by SoftBank Robotics America, HSBC plans to have a Pepper in each of its approximately 35 new branches across the country.
Larry Tomei, EVP and head of retail banking and wealth management at HSBC Bank Canada, told WP that the new addition to his team will elevate customers' knowledge.
"Having a client come in and be able to, in a casual way, ask Pepper TFSA or RESP questions that, frankly, a lot of Canadians don't know is fabulous because it gets that education going.
"Pepper will also elevate our employees. We know from the US experience, it will drive a lot of clients, new and existing, into the branch. By default, a lot of the service type of transactions Pepper will be able to handle, freeing up our people to do what they do best, which is really providing great advice to clients."
Pepper can provide details on products, be it accounts, mortgages or credit cards, and then email or text it to the customer. The advice stage, said Tomei, will still happen in the office with a human staff member.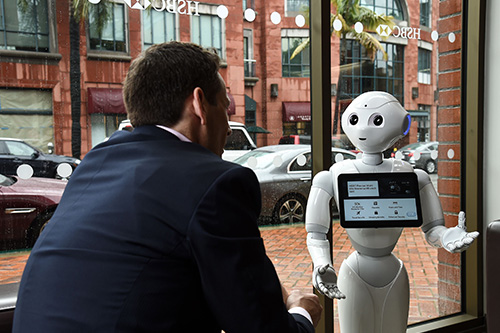 For the bank, it's another part of the growth of client digital interaction, adding to, among other things, its mobile app and its Wealth Compass online investment advice offering.
Tomei described Pepper as fun - it can dance - and something that can also entertain the kids while in the branch. The bank is encouraging visitors to pose with Pepper for a picture and upload their photos using the #MeetPepper hashtag. Does he fear, though, that people will dismiss the robot as a marketing gimmick?
"We know from our seven peppers in the US that it increases client service and drives more people into the branch. We end up hiring more people as a result of Pepper, and clients are happier and employees are happier because they get to do the things they want to do.
"I always say if somebody can come in and get knowledge, and at the same time have a good time, which you don't typically get in a Canadian bank, what can be better?"
Tomei believes it is only a matter of time before investment advice is being provided to the client through more digitally driven solutions. However, HSBC is leaving it up to the clients to decide how they want to interact, citing the growing use of HSBC Compass and its portfolio of ETFs and mutual funds.
He said: "The feedback has been fabulous. Compass is growing. Clients love the fact that they can go online and do it in the comfort of their own home. It's providing advice and, quite frankly, building properly diversified and geographically diversified portfolios from an academic standpoint."
Investment advice from a robot like Pepper is not a reality just yet, although Tomei pointed out that mobile phone apps are really doing that already. The first humanoid at the major bank in Canada, however, is focusing on education, and also entertaining and assisting the next generation.
"Knowledge is the biggest driver of financial and personal success. Having a six-year-old come in and find out what a TFSA is, or better yet an RESP, is great."
He added: "It all depends how the clients react and based on what we've seen in the US and based on what we've already seen here, I think people are going to be demanding a lot more in our branches. You have to educate, elevate, inform and just create a real fun environment for people."