Advisor hails impact of pioneering companies as industry embraces October 17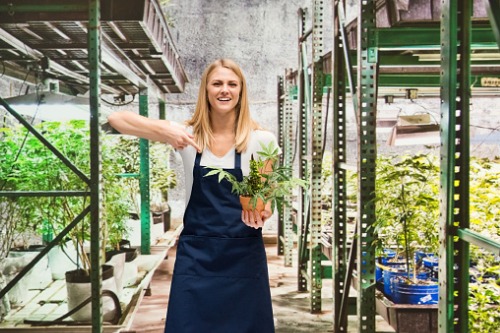 Fundamental investors may struggle to see THD from the TSX but one advisor said he is delighted to be at the forefront of creating a new sector.
Chad Larson, director and portfolio manager at MLD Wealth Management Group, Canaccord Genuity Wealth Management, is clear that he thinks the majority of investment opportunities are south of the border but heaped praise on the pioneering rise of companies that have made Canada the market cap leader.
With hype hitting fever pitch this week after recreational marijuana went legal on October 17, he called the space a once-in-a-career opportunity and a fascinating roll-out to watch.
He said: "Like all things, the pendulum will swing too far in one direction but with south of the border liberalizing their views and state by state opening up, and internationally we see the UK relax on the medical side, there is a global opportunity.
"If you are a fundamental investor, you shake your head at this but we want to go and do the Wayne Gretzky analogy and skate to where the puck is going. It's going here and we want to allocate some capital but all in good measure."
Larson warned that there is a danger of the space getting too crowded and overvalued but that everything suggests the sector will become a pillar of the economy as big pharma and large corporations take over.
He said: "Not that the smart money is a testament to where the market is going – we saw smart money come in the crypto trade late and hurt themselves - but we are seeing more and more institutions, larger institutions participate in the space.
"So we are really excited to be at the forefront of creating a new sector within the economy and our clients have benefited greatly."
Larson said many portfolios have benefited from the irrepressible spirit and determination of people who threw caution to the wind at the beginning of this cannabis journey.
He expects to step back from trading the sector in 18 months to two years once valuations have settled down but with big companies poised to step in, the market is developing uniquely.
He explained: "This was a really interesting market to roll out. Typically, what you'll see is when you have small caps or micro caps, it'll be because of a shift or change in the industry. People figured out horizontal drilling years ago – big huge companies like Halliburton and Shell developed technologies to change the way we drilled for oil and gas, and they created light oil, tight oil drilling, and multi-stage fracking. All of sudden there was a burgeoning army of junior companies that could come in.
"This was done differently – this was done by entrepreneurs, pioneers and people who threw caution to the wind. They benefited greatly from the augment when Aurora and Canopy first came out – they were tough to sell to clients, they were ideas and hopes and because they had a first-mover advantage, when people first started investing in the sector, they had very limited options.
"They soaked up all this capital and have done an incredible job at turning them into large-scale vertically integrated companies, but they themselves see the opportunities as being south of the border and globally."