Chris Davies, of Wealth Professional, sat down with Moira Klein-Swormink, Director, Client Strategies Group, Edward Jones, to discuss the vitality of individual purpose for employees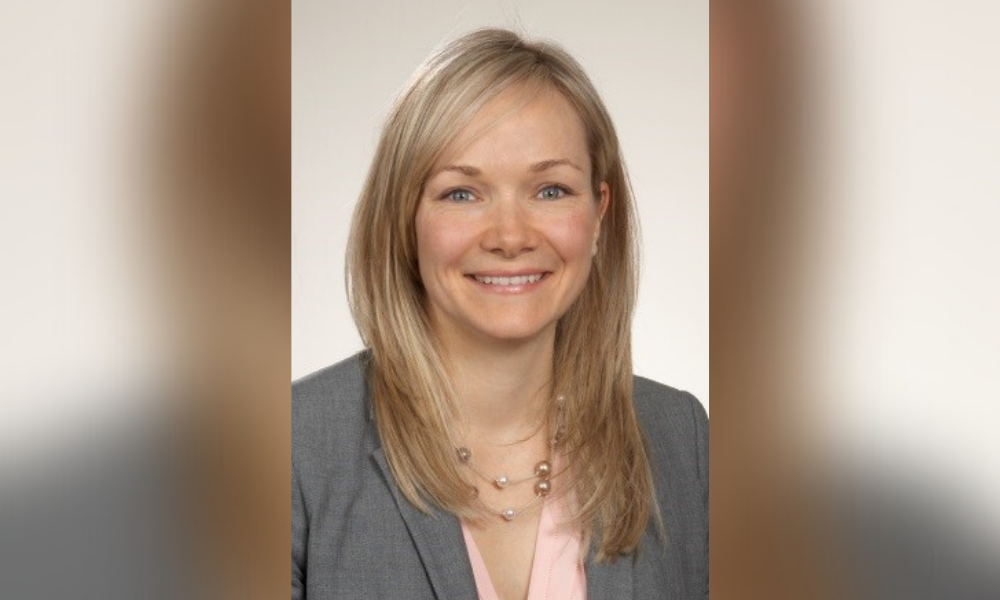 This article was produced in partnership with Edward Jones
Not to get all existential all of a sudden – but have you ever wondered what your purpose is?
In terms of the workplace, it's not quite as abstract a question as it first appears. In fact, defining your purpose on an individual level can be a huge boost both to personal development and your organization in general.
And few people know the topic better than Moira Klein-Swormink (Director, Client Strategies Group, Edward Jones) – who will be sharing her thoughts as a speaker at the upcoming Women in Wealth event.
If, however, traditional methods of personality measurement such as the Myers-Briggs scale spring to mind, don't expect Klein-Swormink to be focusing too heavily on them.
"In general, I'm not a huge fan [of those measurement types]," she says. "I'll be honest, I think I've done every single one of them. I'm always curious about them – but mostly because I'm curious about me!"
Nonetheless, she reveals, this highlights the "most important thing" of finding your purpose: which is "getting curious about yourself."
So – what's the best way to explore that curiosity? How can you leverage great results from it?
"It all starts with introspection," she reflects. "Ask yourself, 'what's your why?' What gets you out of bed every morning? What really fires you up? When do you feel most 'in the zone' at work?"
"You need to identify how that links into your core values. [At Edward Jones] we work with teams to do this. Part of the exercise involves looking at a list of values and saying: which ones resonate for me? What are my top three? And then – how does that show up in my purpose? Am I bringing them to life?"
It's clear, then, that understanding who you are can be an inspirational personal motivator – but it's when these qualities are factored into a team environment, that's when the magic happens.
All sorts of organizations can benefit from their employees finding their individual purpose. Yet is there anything specific – and specifically successful – about this approach when it comes to the financial services industry?
"The industry itself is changing a great deal," Klein-Swormink says. "From an employee standpoint, people want to experience different things – and our clients are demanding a different type of service."
This shifting landscape, it transpires, is why empathy is key.
"We're dealing with people," she says. "It's important to be able to take a moment to truly see things from the other person's perspective, and to be able to empathize with them and see them through on the journey."
"Human beings are brilliant! We have the capacity to create, to imagine and to achieve levels of output and success that we really couldn't even fathom. So how do we help activate that? [It's about] supporting them as a whole person and helping them to live out their purpose in the work that they're doing. Compassion, empathy and contextual listening are just so powerful."
Perhaps most interesting – Klein-Swormink is speaking at the Women in Wealth event, after all – is how the discovery of individual purpose can empower women in the industry.
With financial services already a male-dominated sector, the pandemic put a spoke in the wheels of progressing equity and diversity. How, then, can we utilize our sense of purpose to get back on the road to recovery?
"That's such an important question," she enthuses. "Women are actually having more of an impact in terms of checking in on people's wellbeing and making people feel welcome in the workplace. It's just paramount that women spend time understanding who we are, what we bring to the table, and being proud to stand up and put forward with intention those characteristics and traits that differentiate us. There's an opportunity for us to take the leap and be empowered to stand in our whole selves and go for it."
While pinpointing one's purpose is no catch-all solution to problems – "boy, have I experienced that in my career," Klein-Swormink says when touching on the issue of Imposter Syndrome – it's a valuable tool that can absolutely take an individual employee experience to the next level.
"Improvements don't happen overnight," she summarizes. "You can't flip a switch, and we're all transformed. It's about opening up dialogue and creating space to have these conversations. We're all just trying to get a little bit better. It makes it possible for us to take incremental steps necessary to get where we want to go."
Moira Klein-Swormink is Director, Client Strategies Group at Edward Jones in Canada. In her current role, she serves as Program Strategy Leader for the Client Focused Reforms Regulatory effort and leads the Goals Based Advice Centre of Excellence.