'Steady flow of trust' and 'deposits in client relationships' have paid dividends, explains ambitious advisor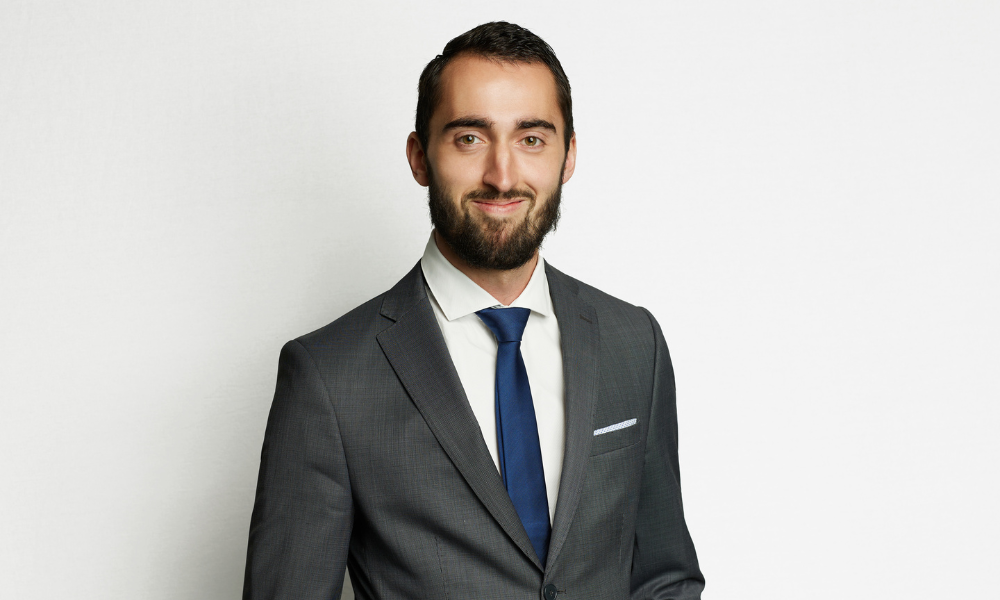 While some growth-focused advisors might shy away from holding their clients' hand too much, there's a win-win alternative to that approach, according to one young wealth professional.
"Last April, I was pleasantly surprised by how little the phone rang at our practice, while I was hearing stories about other advisors having to justify themselves quite frequently," says Francois-Julien Duffaud, investment advisor at Manulife Securities.
"I didn't have so many hard conversations, and although I did have a few like anyone, I saw that as a confirmation of the path we were taking. … I felt the benefits of having taken the other road, which was to be really close to my clients."
The ultimate goal, he says, is to establish a steady flow of trust over time. With a philosophy that revolves around consistency and keeping clients top-of-mind, he and his team received the Top Work Ethic Award in 2022 at the firm's Dorval branch. They were also welcomed among Manulife Securities' Inner Circle of Achievement for 2022.
"Trust comes from making constant deposits in our client relationships," he says. "Getting that recognition felt pretty good and comforting, knowing that we're going in the right direction."
For Duffaud, the secret to success is no secret at all. His practice uses a sound, process-based investment approach, which he shares across his client base. He emphasizes the importance of having a regular schedule of contact when servicing clients.
To free up his time for that, he put together a team of individuals with above-average experience for their respective roles, as well as values that align with his own as an advisor. His practice also leverages modern tools to keep clients posted on what's happening in their portfolios as well as the markets.
"Demonstrating a client focus helps you overcome the impostor syndrome that a lot of professionals can have," he says. "When you're committed to helping clients with their finances as a whole, and staying in touch with them, it helps you feel more legitimate."
Since he began in the financial services space seven years ago, Duffaud says he's been the one to open the office most mornings. He typically wakes up at around 5:30 AM, or early enough to get a good workout in before leaving for work.
"I hit the curb around 6:30 or 7 AM, and it's a calm moment," he says. "I like to have those one or two hours in the morning before things really start."
That's not to say he's against work-life balance. To make sure he's grounded and in a mental position to give better advice, he works remotely a few days a week. Spending time with family, he adds, gives him a much-needed recharge.
At the end of the day, Duffaud counts himself among the lucky professionals to find true fulfillment in their work. As an advisor, he enjoys the never-ending process of learning and getting better, being trusted to take charge of important decisions, and the opportunity to give and keep his word.
"When you step out of having sales discussions with your current and potential clients, and move more into explaining how they can benefit from having a relationship with you … it's much more rewarding," he says.