Following challenges from COVID-19 disruption, Edward Jones is opening doors for women advisors to thrive and succeed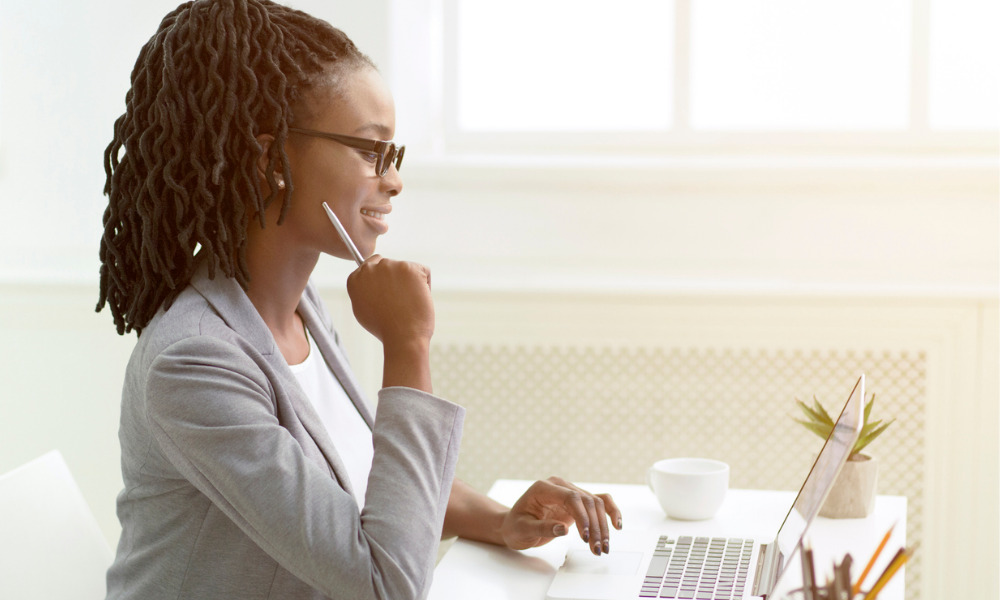 This article was produced in partnership with Edward Jones Canada.
Among the many disruptions set off by the Covid-19 pandemic was the so-called "she-cession," which saw women leaving the workplace in droves – including in the wealth industry. But fast-forward several years, and the catastrophe has left a legacy of lessons to better address the needs of women advisors and their clients.
That was the overarching theme presented by experts from Edward Jones Canada at a fireside chat during the Women in Wealth Management Summit, hosted by Wealth Professional earlier this month.
"When women were in a position of having to choose between work and family or other personal priorities, many did not prioritize work … as it was at the onset of the pandemic," Julie Petrera, senior strategist for Client Needs at Edward Jones Canada. "We've come a long way in terms of how and when and where we can successfully work."
In a 2018 study, Statistics Canada found that women accounted for 54% of all caregivers, including two thirds of caregivers who devote at least 20 hours on caregiving duties; updated StatCan data published last month shows things have hardly gotten better. The arrival of COVID-19, Petrera said, cast a spotlight on the additional burdens placed on women not just in terms of caregiving, but also remote schooling and other family responsibilities.
When a large cohort of women left the Canadian workforce in 2020 – RBC reported that 1.5 million women lost their jobs in the first two months of the pandemic-induced recession – it added to the already considerable challenges they faced in securing their financial future. According to Petrera, working-age men earn about 8% more on average than their women colleagues; for parents with young children, that gender pay gap – which has lifelong implications – is twice as wide.
"Women live longer, so they need to support themselves in retirement for longer," she added. "Time away from the workforce … can be exponentially harmful to women financially."
Tammy Scuralli, a financial advisor at Edward Jones, said she had very impactful and emotional conversations with her women clients during the pandemic, involving decisions with significant implications on their lives and financial goals.
"They were focused on their health, their family's health, and their well-being. And secondly, they were so worried about job security and their ability to earn income during the early days of the pandemic," she said.
According to Scuralli, the pandemic made women re-evaluate their priorities, which included their careers and work-life balance, as well as flexibility in their work. It was a dynamic that Naveen Rakkar, head of Human Resources at Edward Jones, also saw playing out within the organization.
"The pandemic provided an opportunity for women to really stop and reflect on what mattered most to them," she said. "Employees began to ask questions, and they're really reflecting on are they truly passionate about the work that they're doing? Does their employer empower them personally and professionally? Are there opportunities for career growth or personal growth?"
To help their women associates, Edward Jones instituted 10 additional paid days off for COVID-related reasons, held coaching programs to help leaders to lead with empathy, and providing additional mental health support through an Employee Assistance Program. Another key initiative, according to Rakkar, was a Caregivers Business Resource Group set up to create a place of belonging, awareness, and additional support for associate caregivers.
Perhaps most importantly, Edward Jones invested in technology to enable remote work. For Scuralli, that has meant the ability for her team to address clients' needs from multiple locations.
"The pandemic and the flexibility with technology has opened doors to work remotely for many advisors," she said. "They don't have to be in the office every day of the week, because they have other priorities as well. And the work day is not always nine to five anymore."
The flexibility of virtual work allowed Petrera to be onboarded during the pandemic, even as she was in the middle of moving to a new city.
"I was upfront about where and how I needed to work to be at my best and I was supported," Petrera said. "Being able to work remotely made the world of difference for me and my family. I'm able to be fully present and committed to my work by being afforded the flexibility to be where I physically need to be every day."
Edward Jones is continuing to reap the benefits of an enabling remote work structure; it recently announced a hybrid work policy that includes two days a week at the office, though it's voluntary for branches to apply. Rakkar said a large number of associates have transitioned from an office to home-based remote working arrangements, with some moving to smaller, more affordable communities or locations closer to their families.
"Since the onset of the pandemic, we've seen an increase in women joining Edward Jones. And I'd like to think that this culture that we've created plays a part in that," she said. "It's very much a human-centred culture, putting the person at the centre of how we think about decisions and policies, and then also coaching and enabling our leaders to lead with empathy."
According to Rakkar, Edward Jones aims to increase representation of women financial advisors across the organization to 30%, and gender parity in leadership positions, by 2025. In line with that, Edward Jones recently redefined its definition of hybrid work to include two in-office days a week, with leaders and associates being given a choice on how and whether to adopt hybrid policies.
The firm has also set up a Women's Business Resource Group, an employee affinity group that empowers associates and provides leadership opportunities as well as an advisor-led summit for women helping other women.
"In Canada our women's leadership [representation] is at 56%, 40% of our general partners are women. And we're making progress on our financial advisor representation in Canada as well; we're currently at 24%," Rakkar said. "Firms can listen, but it's really important to take action to the firm's that have not adapted or falling behind. And those that are adapting as Edward Jones is, are getting ahead."