Rising star explains how limiting his meeting windows and cutting out distractions has kept him from burning out while his practice grows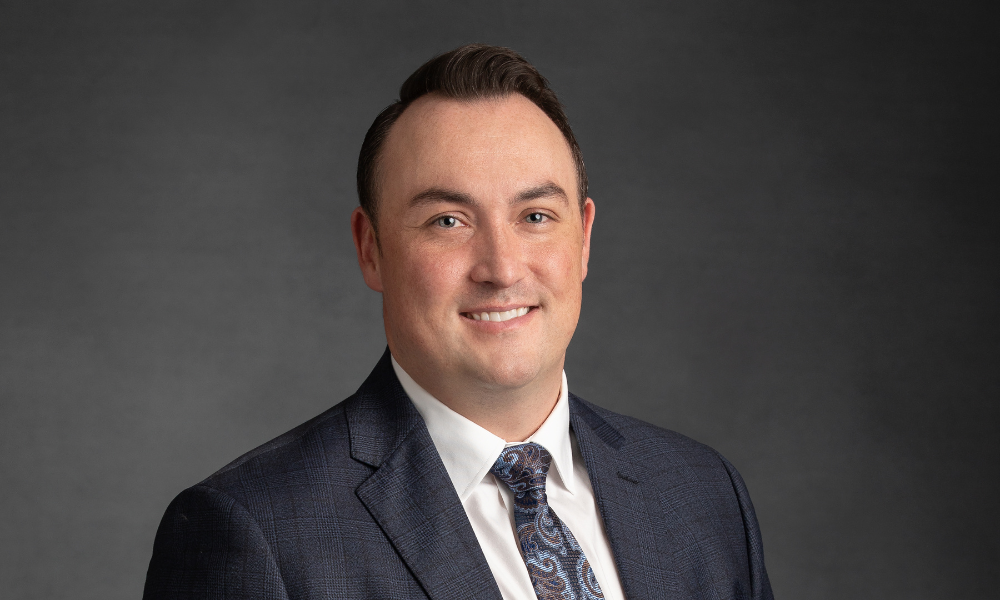 When a client wants to book a meeting with Evan Inglis, they'll usually see 11 slots per week available. 2 on Mondays, 3 on Tuesdays, 2 on Wednesdays, and 4 on Thursdays. That's it.
Inglis keeps a tight schedule. The Calgary-based Executive Financial Consultant with IG Wealth Management explained that his calendar enables a level of focused service that his clients expect while also ensuring he is not burning himself out. That service was recently recognized when Inglis was named one of the WP Top 40 Under 40 Rising Stars 2023.
As the below image shows, Inglis builds in prep time and buffer time around his meetings, as well as specific windows for practice management and even checking his emails. He keeps his phone and email notifications on do not disturb all day, except for the appointed hours when he checks correspondences. It's a level of discipline that Inglis says is hard won.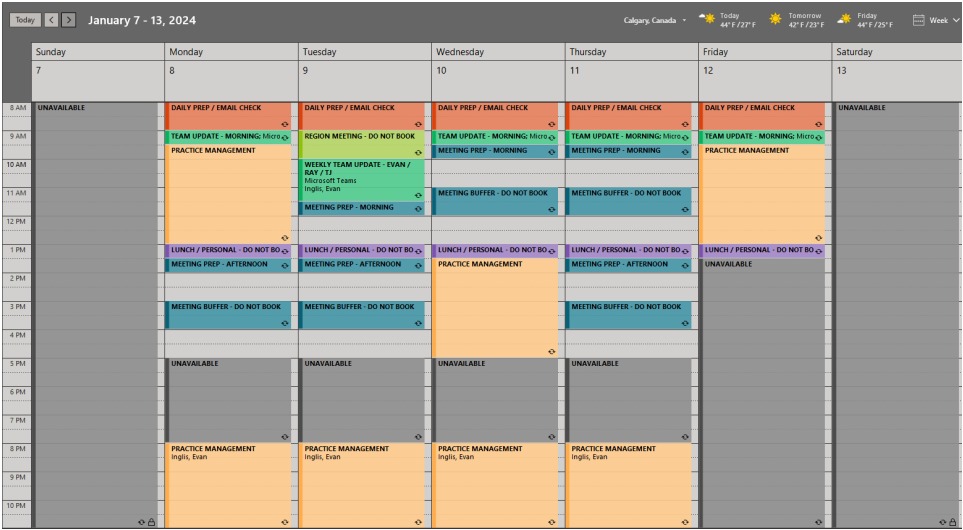 An example of Inglis' weekly calendar, with open slots left for client meetings
"I started at zero in 2009 and I was working 70-80 hours a week. I was in the office every single day, I had meetings or events every night and I worked every single weekend," Inglis says. "That was untenable, I could do that when I was 25, but I'm 37 now and I know what's going to burn me out and what's going to recharge me.
"The other thing that helps is that it frees up my time to do the things that actively generate business."
While client meetings are core to business generation, at the point Inglis finds himself now he also needs time for subtle chats with centres of influence, or a client lunch, or a hockey game. He bakes freedom into his schedule in order to capture opportunities while retaining enough availability for his clients to reach him directly.
Inglis begins each day with broad prep for his day and a review of his emails & correspondences. That daily check allows enough time for fulsome responses and sets the right expectation with his clients that their emailed concerns will be addressed promptly, but not at the instant they're sent. The same level of expectation setting is key for Inglis' meeting windows too. While he limits his total availability to around 11hrs per week, Inglis' clients know they're getting a thorough discussion during that hour, followed by immediate well-annotated follow-up that Inglis creates in his post-meeting buffer hour.
Delegation and team trust is crucial to Inglis' approach. Once a week he meets with his team for an hour and a half, for discussions around marketing, prospecting, events, or other broad planning goals. From there he trusts his team to do their jobs and doesn't waste time micromanaging their work.
The daily practice management windows are also key to Inglis' success. Whether it's refining spreadsheets, portfolio management, or working towards longer-term projects, he relies on dedicated windows of time to achieve more long-term decisions and goals.
While his calendar is disciplined, it includes flexible time. After 8pm on weekday evenings, once Inglis has put his kids to bed, he leaves time for additional management, correspondence, or even a client meeting if necessary. The end result is a weekly workload between 37 and 49 hours that affords enough time for fulsome client service, long-term business planning and the rest of Inglis' life.
Underpinning Inglis' calendar is a belief in the value of saying no. While many advisors are trained to say yes to everything and everyone to build their business, Inglis believes in a philosophy proposed by Greg McKeown in the book Essentialism, which preaches a disciplined approach focusing on only the pieces of one's work or life that are absolutely essential. While every advisor's relationship with time management is different, Inglis believes that a disciplined approach to time can help keep advisors successful without leading to burnout.
"If you don't dictate your time, somebody else is going to," Inglis says. "Whether or not it's your company, your clients, your personal life, if you don't control it someone else will control it for you. Those demands will creep in, and creep in more frequently once you get busy and more productive and start to grow."