Canada's FTSE Russell Country Head is braced for a second wave and questions why the level of unemployment and debt is being discounted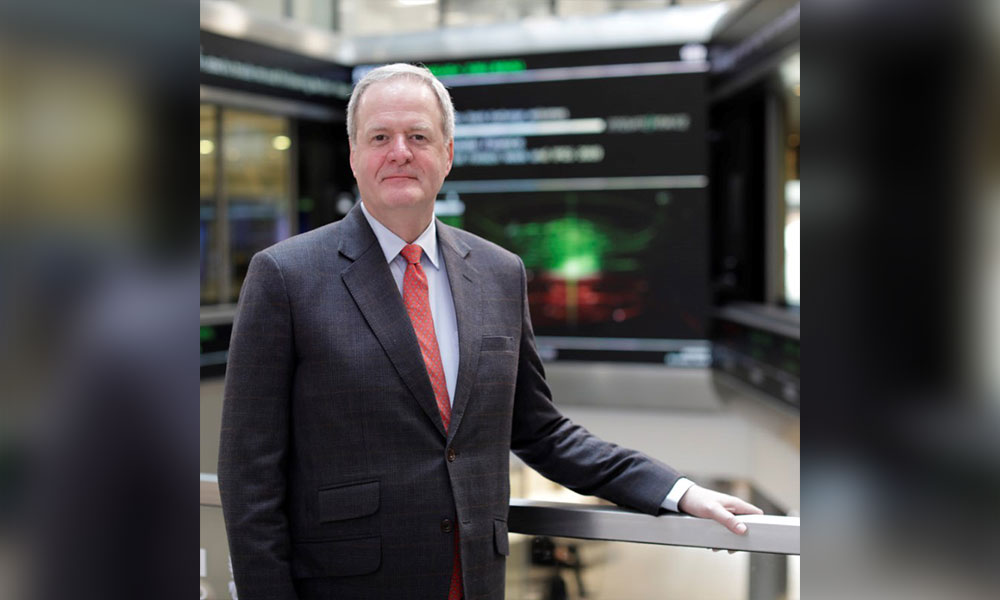 It's been a seismic first year in the hot seat for Paul Bowes, the Canada Country Head at FTSE Russell. The finance veteran was revelling in his new role when the global pandemic sent markets into a tailspin. Luckily for his employers, Bowes has a wealth of experience to draw from as he stewards one of the "scorekeepers of the financial markets" through the current crisis.
Before a 16-year stint at Thomson Reuters (now Refinitiv), which included a period in the U.K., he was also an executive at the TSX and spearheaded a technology start-up, also in the U.K. Amid these "extraordinary" times, Bowes has been busy launching a new mortgage-backed securities index, the FTSE Canada NHA MBS 975 Index. Triple AAA rated, CMHC insured and undertaken in partnership with the Bank of Montreal, the bank has launched three new ETFs off the back of it.
FTSE Russell has also created a coronavirus market hub on its website, strengthening its focus on research, and, if the regulator's approve, will complete the acquisition of Refinitiv, a deal Bowes said he had no inside knowledge of when he joined but one he expects will transform the business. The 32nd annual rebalancing of its U.S. indexes concludes this week, which is expected to result in record trading volumes.
There is, however, no escaping the biggest event of the year – COVID-19. Everyone knew a correction was overdue but, of course, very few predicted it would be triggered by a health crisis on this magnitude, which subsequently shut down major economies.
Bowes told WP this was the right thing to do to protect lives but conceded he is still scratching his head at what's going on with the equity markets.
He said: "How have we so discounted the unemployment levels and the level of debt. Officially, the United States economy went into recession in February, unemployment is at its highest levels since the Great Depression - well beyond the 2008 crisis – and yet the market appears to believe that all is fine and we've returned to the same levels pre-crisis.
"Has the market just decided there's no such thing as risk anymore because governments are so terrified of a depression and they have much more willingness to take on the levels of debt they have?"
Governments are stepping in to save the sectors most hit but Bowes believes there will be a second wave, in line with every other pandemic in history. He feels, therefore, that there has been some wishful investing. The FTSE Russell indices kept on rolling through the volatility, the speed of which was unlike anything Bowes had seen before, but he expects more to come and "would not bet the house on a sustained recovery".
He believes the good advisors will be preparing clients not only for a second wave but for a very different environment moving forward.
"The clever advisors will be telling their customers that 'things are never going to be quite the same'. People talk about commercial real estate and, I'll be honest, we're the London Stock Exchange and have an office in Toronto, which is the FTSE Russell, and we have no [immediate] plans to return, certainly this summer. The CFOs of every firm are already gleefully calculating how much money they can save by having more people work from home."
This is not a one-year story, he added. Who knows when or if we will get a vaccine, while business travel is likely to take years to recover. There is the odd silver lining, however, despite the shock to the system in March.
"In March, I'll tell you right now, customers truly did not want to talk to us. I didn't take it personally. With the level and speed of the decline, I don't blame them."
He added: "We are getting better engagement now in May and June than certainly we were in March or even in April, so I think we're all learning together. I had a call with a very senior person at one of the major asset management divisions of a bank and I'd been trying to get in his diary for the past six months. I couldn't get him because he was travelling. Guess what? I got a call with him because he's not going anywhere! We're all learning that engagement is going to be different."