With a tsunami of wealth transfer underway, one specialized team is helping women clients navigate complex decisions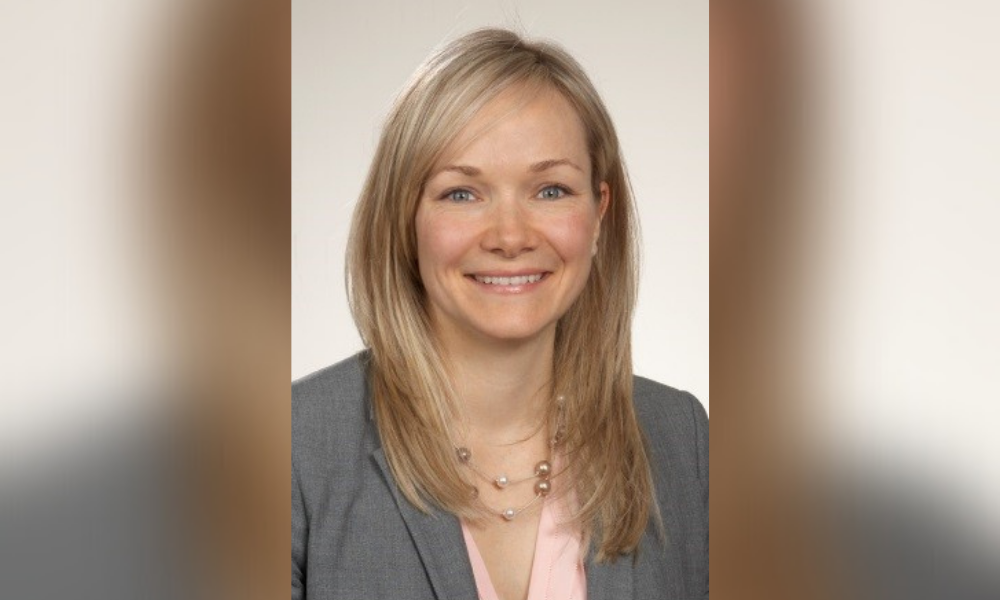 Whether it's based on formal research or families' daily experience, it's abundantly clear: women face unique challenges related to their financial security and freedom. But as a specialized planning team at Edward Jones Canada well knows, that's not all they're worried about.
"The Client Consultation Group is a team of specialized wealth consultants," says Moira Klein-Swormink, principal, wealth management advice & solutions at Edward Jones Canada. "These are subject matter experts who can review accounts with complex needs, such as snowbirds, high-net-worth families, small and mid-sized businesses. They can then provide guidance about what considerations could be important to clients as they move forward."
Edward Jones Canada is a key sponsor at the upcoming 6th Annual Women in Wealth Management Summit happening in Toronto. Along with other leaders, Klein-Swormink will be participating in a panel discussion held by the firm titled "Financial resilience in a woman's world – reframing your financial mindset."
According to Klein-Swormink, the CCG's expertise is tapped for complex planning areas like business transitions, cross-border or foreign assets, strategic philanthropy, estate planning, intergenerational wealth transfers and family dynamics, to name a few. While the group isn't focused specifically on women, its work naturally touches on concerns that are near and dear to that demographic cohort.
"Although reviewing traditional financial scenarios is an important part of what the CCG and branch team does, and that may include items like saving plans to help clients meet their goals, or tax optimization strategies, women often also want to be engaged in conversations about the effects their choices may have on other people it touches," Klein-Swormink says. "For instance, women are likely to be concerned about the effect of wealth on each family member and we often hear that it is important that the family still be able to come together for family holidays."
The CCG can help women and their families have difficult conversations so that they can make decisions, especially when there may be competing priorities. Sometimes, these conversations are coming to grips with concepts like "fair is not always equal" before any "traditional" considerations can really start, and then engaging the client's whole team of professionals (including their accountant and lawyer) to help ensure that there is a holistic view toward accomplishing today's goals, tomorrow's goals, and those potentially for the next generations.
"Women are thinking about good health – how that transcends physical health and embraces financial health. So, we think about how financial strategies can be structured effectively to help support a balance of wealth and wellness," Klein-Swormink says.
Apart from the long-standing gender pay gap, Klein-Swormink says there's a disconnect between how educated today's women are and how financially confident they feel, and they're worried about having enough money to navigate the challenges of retirement.
"For caregivers, there's also the impact of taking breaks from income-generating years to take care of their children, and maybe even elderly parents," she says. "Were' talking to them about how to navigate that in their retirement planning, to maximize their ability to live long and support themselves according to their goals, wishes, hopes and dreams."
That's only the tip of the iceberg. Because they are usually the guardians of family relationships, women often feel the burden of ensuring the generations after them can have the life and lifestyle they want. They're also acutely aware of the need to care for older parents while preserving their dignity.
"Women do tend to be concerned about family dynamics," Klein-Swormink adds. "They worry that the transition of wealth will have a negative impact on family relationships, which is something that we take very seriously when we work with our clients."
Today, women control an estimated $2.2 trillion in personal financial assets, excluding real estate; that's expected to hit $4 trillion by 2028, according to an Investor Economics report on women in brokerage.
"Women understand that they can come to us, and we can help explore all their needs to begin to feel secure in their decision-making. They can pressure-test their plans with what-if scenarios and talk through potential risks that can get in the way of desired outcomes," Klein-Swormink says.
"A solid financial plan enables you to both live now and prepare for the future – that's what the Client Consultation Group affords."
The 2023 Women in Wealth Management Summit is taking place on December 5 at the historic Carlu in Toronto.
The summit, titled "Strategies to empower women in wealth – no woman left behind," has been approved for 3.25 CE credits by the Institute for Advanced Financial Education and FP Canada.
To learn more about the event and register, click here.