The ratings agency warns that rising home prices are unsustainable and face a possible correction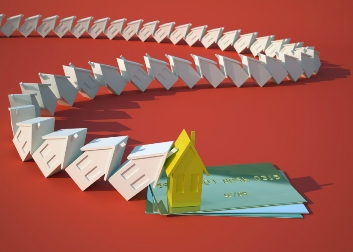 Fitch Ratings has joined a growing chorus of analysts concerned about overvaluations and a heightened risk of correction in the Canadian housing market.
"Low rates and foreign investment continued to fuel price rises in several key markets in 2016," said a report from the ratings agency, according to the Financial Post. Growth in the Toronto and Vancouver markets were major contributors to a year-on-year increase in Canadian home prices through October.
Bank of Montreal economist Doug Porter has said that the Toronto market has entered bubble territory, with prices increasing 22% compared to January 2016. Capital Economics has also asked what how the dependence on housing could impact the overall economy over the long term.
The rising prices, according to Fitch, are not sustainable long-term and unsupported by fundamentals. It has acknowledged the efforts of local and federal governments to control prices on the demand side through tightened loan requirements and restrictions on certain buying segments, saying that "the pace of home price growth should decelerate."
The tightened requirements for federal government-backed loans, which determine a consumer's eligibility based on the Bank of Canada's five-year fixed mortgage rate of 4.64%, is expected to hurt first-time home buyers significantly.
Fitch also expressed concerns over household debt levels, which reached a new high of nearly 168% of disposable income in Q2 2016 and breached 100% of Canada's GDP for the first time ever. "Mortgage debt is the number one contributor to household debt in Canada," the ratings agency said, adding that raising down payment requirements, stricter underwriting standards, and the possibility of lender risk sharing arrangements could stabilize the housing market and improve affordability, even if mortgage costs rise as a result.
"[W]e expect that [tighter mortgage rules and possible risk sharing] will result in fewer loans being made available to marginal borrowers, which could reduce loan growth," Fitch said, adding that it expects loan volumes to stay high as long as low interest rates, employment stability, significant numbers of qualified borrowers, and high demand for home ownership persist.
Related stories:
Could Vancouver's housing heat be moving to the GTA?
Slate launches opportunistic real estate fund