Could more comprehensive financial advice help curb the suicide rate amongst military personnel? Some planning advocates think so.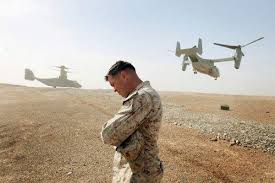 As an financial advisor, you may have helped clients avoid bankruptcy, perhaps guided them through a divorce or the death of loved one … but what about preventing their own suicide?
Citing the spate of military suicides – including 474 in 2013 and 522 in 2012 alone – critics of the U.S. Defense Department say proper financial planning for troops could help turn these numbers around, reported financialplanning.com in a recent article.
Similar to the Canadian Defence Department through its Canadian Defence Community Banking (CDCB) and SISIP Financial Service programs, the U.S. Defense Department offers financial advice services – via hundreds of advisors – geared specifically to the unique needs of military personnel.
But advocates say the program is not used to its full potential, as advisors focus exclusively on financial education and are forbidden to provide deeper planning advice or sell products. This is to avoid the typically financially-inexperienced military personnel from being taken advantage of, the department says.
Planning advocates argue that the Pentagon is missing the boat and needs to think of suicide beyond just a mental health problem. They say troops would benefit from receiving guidance on more complex investment strategies and solutions to their financial problems, including burdensome debt.
According to Defense Department statistics, financial trouble along with mental illness, marital problems and substance abuse are some of the top factors behind military suicides. And interestingly enough – counter to what many may believe – more than 50 per cent of military suicides were among members who were never deployed to the battlefield, according to a Pentagon study, which looked at 350 active-military suicides in 2012.
"We know that financial problems are one of the leading factors that immediately precede suicide among members of the military," Craig Bryan, a veteran and executive director of the University of Utah's National Center for Veterans Studies, told financialplanning.com. "There are life stressors that are perceived as being unsolvable and never-ending, and suicidology is seen as being a coping strategy."
And there's another catch to this suicide trend – life insurance payouts. The majority of active-duty soldiers in the U.S. hold a US$400,000 government life insurance policy, which will be paid out even if the death is ruled a suicide – unlike most insurance policies. Survivors are also eligible to receive an immediate $100,000 death benefit. Of the 350 active-duty military suicides in 2012, most of the survivors received life insurance payouts, reported the Pentagon.
Canada may want to take notes, as military suicides are hardly a foreign problem here.
(continued)
#pb#
Between November 2013 and January 2014, there were eight reported military suicides – three of which occurred within three days of each other. According to documents obtained by Global News, for every suicide reported in the Canadian Forces in 2012, there was at least one attempted suicide. Meanwhile, the military only reports 'current' male members who die by suicide, attempt suicide or when suicide is suspected.
Though several ideas – including combatting the stigma around mental illness, enhancing mental health support services and even lowering fitness standards to allow injured veterans to continue training – have floated around to combat the problem, more comprehensive financial planning services don't appear to be on the radar.
"It's this simple. Mental health injuries need to be considered in the same light as physical injuries. They need professional treatment," Gen. Tom Lawson, the chief of defence staff, told the Globe and Mail last November, adding that clinics were short staffed, as the military compete with provinces for mental health services.
Meanwhile, even the public pension plans that support our military could be next on the chopping block. Canada's auditor general,
Michael Ferguson,
recommended Tuesday that the government re-examine the three defined benefit plans for Canada's public servants, military and RCMP to assess the risks that could affect the long-term affordability and sustainability of these plans.
Do you feel comprehensive financial planning could help curb military suicides? Tell WP your thoughts in the comment box below.
Related Stories
Advisor claims workload led to breakdown
Canadian firms respond to suicide spree