An ambition gap and a lack of sponsorship contribute to women's struggles in advancement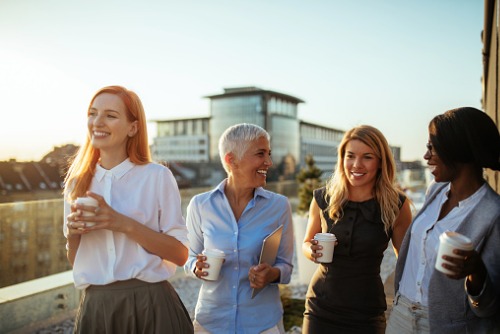 Late in August, the Wall Street Journal reported on a months-long internal investigation conducted by Wells Fargo. The issue: alleged gender bias, which was most recently reported by female executives frustrated over qualified women being turned down for top wealth-management roles that were given to male applicants.
"Once an investigation is complete, we are committed to taking any appropriate action," Kathleen Leary, a Wells Fargo spokeswoman, said in an email.
The firm may very well have a blind eye turned to leadership diversity, as only 12 out of its 45 regional managing directors are women. But if indeed there is a tilt toward male executive representation, it may reflect an uneven playing field across the industry.
According to a new report from the consulting firm McKinsey, more than 90% of financial firms — representing the banking and consumer finance, asset management and wholesale banking, and insurance industries — declare a commitment to gender diversity. But while men and women make up roughly equal portions of entry-level staff, female representation declines to only 19% in the C-suite.
McKinsey discounted attrition as a cause of the phenomenon, noting that female attrition at the company level is equal to or lower than that among males for every role — except for the most senior positions. "[A]s they advance through their careers, women steadily lose ground to their male peers at every stage."
Surveying leading female financial-services executives, the firm found that many women early in their careers do not aspire to top positions. Among female entry-level professionals, only 26% strive toward a top executive position, compared to 40% of their male peers. Those who are not excited to snag top-level positions cite concerns such as maintaining family-work balance (40%), a perceived pressure related to top jobs (36%), and too much politics (34%).
Another hurdle to advancement comes from lack of support and sponsorship. While previous research from McKinsey showed that women who are mentored on career advancement are more likely to get promoted, earlier-tenure women receive less encouragement and support from managers and senior leaders compared to their male peers. They are also less likely to get managerial advice on opportunities, and less frequently get guidance on advancement or navigating organizational politics.
A possible complicating factor, suggests the research, is that entry-level women tend to focus on performance, rather than cultivating a strong network of advocates and supporters, as the strongest driver of advancement.
The women who advanced successfully to the upper levels of management navigated the challenges by finding sponsorships, taking risks early in their careers, and knowing and communicating their value. Still, the ambition gap persists even among such success stories, as does the challenge of balancing work with family responsibilities — something that their male colleagues seem to worry less about.
"Nearly half of senior-level women say that they continue to shoulder most household responsibilities, while just 13% of their male peers say the same," noted McKinsey.
Related stories:
Advisor challenges women to toughen up
Many women who don't want to be advisors just need to know more