Women advisors are leveraging technology to better keep track of, reach, and educate clients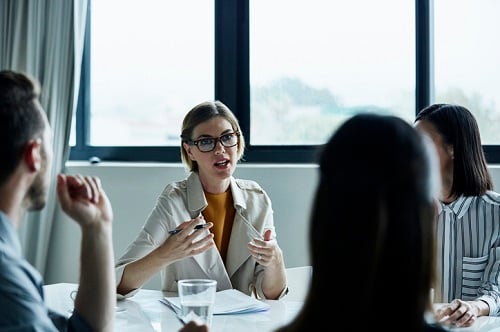 Even as technology plays a growing role in investors' everyday realities, financial professionals remain confident in the human touch. And it seems that female advisors, rather than seeing competition, are seeing tools to improve their businesses and help clients.
In a survey of financial advisors at its recent Annual Women's Conference, Edward Jones found only 11% cited disruptive technologies — including advances in artificial intelligence and robo-advisors — as the financial advisory industry's biggest challenge in 2019. This flies in the face of growing robo-advisor AUM will reach between US$2.2 trillion and US$3.7 trillion by 2020, according to a report from Deloitte.
Rather than racing against technology, female financial advisors are embracing it. Among those asked how they see their practice changing in the next five years, 57% said they will offer a broader menu of services to a thinner book of clients. Another 60% said that technology let them have more data and tools to fit their advice to their clients' life goals.
"While new and disruptive technology has put pressure on the financial services industry, it has also enabled financial advisors to better determine appropriate solutions for clients' increasingly complex needs," said Katherine Mauzy, principal of Financial Advisor Talent Acquisition, Edward Jones.
Among the respondents, 66% said they now use client relationship management (CRM) software as part of their back office to keep track of leads, prospects, and clients. Another 60% also said they use web-based meeting tools for client meetings, while 28% are turning to social media to interact with clients. Educating clients is another important priority, with 38% saying they are using online resources more to improve clients' awareness and understanding of investment offerings and strategies.
"As a firm, we are seeing on a daily basis how financial advisors are leveraging new tools to anticipate clients' current and future needs, making client-centricity a reality," said Ken Cella, principal of the Client Strategies Group, Edward Jones. "This client centricity allows advisors to deeply understand the clients they serve and empowers clients to engage on their own terms, enabling both parties to make better decisions and to operate with more ease and speed."
Investment in technological resources wasn't the only thing the respondents; investment in talent, particularly through training and coaching, was another recognized concern. Eighty per cent of the responding advisors cited a belief that ongoing training and coaching is the most important thing their firm can provide to help financial advisors build their practice; almost half (43%) said mentoring and coaching was the most significant piece of advice for women looking to succeed in the financial services industry.
Aside from coaching and mentorship, respondents also cited support designed for women financial advisors (42%) and opportunities to grow through leadership skills (45%) as important.