Winners react to success and reveal what inspired them to reach the top of their profession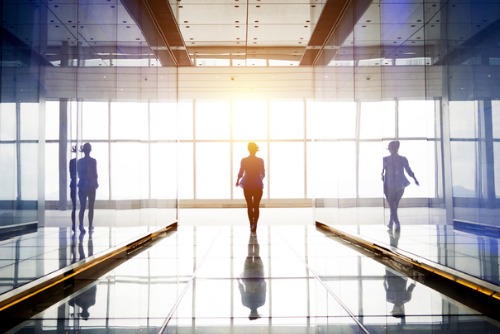 Michelle Masson said being named Female Executive of the Year at WP's inaugural Women in Wealth Management awards was an "incredible feeling" and hopes the industry will become an easier place for women to succeed.
The Women in Wealth conference – sponsored by MacKenzie Investments - preceded the awards cocktail reception on Wednesday and featured presentations and panel discussions from some of the leading women in the profession.
Ottawa-based Masson, of MD Financial Management, said both sexes need to join forces to ensure women fulfil their potential.
She said: ""I am blown away. We spent the day hearing from so many talented women, hearing about life as a female in the wealth management industry. So for me to win something like this is an incredible feeling.
"To think about being a role model for younger women as they come up, I really hope that wealth management becomes an easier place for the female to succeed and I'd like to think I played a small part in that. I think events like Women in Wealth Management are super important. Community is what it is all about, we heard earlier today that 'it takes a village' and I think that women and men need to get on board and help women be what they can be in this industry."
Tammy Cash, executive vice president and head of marketing at Horizons ETFs, took to the stage with her team to collect the Marketing and Communications Team of the Year award. She believes that recognizing teams led by women represents a catalyst for change in the wealth management industry.
She said: "I also, in my personal life, sit on the board for Women and ETFs, so it is particularly special. To recognize marketing teams that are led by women is transformative. I am so proud to be a representative of women in the industry.
"We [Horizons ETFs] were responsible for bringing the world's first marijuana ETF to market and it involved every aspect of our marketing department, from the product side, in terms of fund development, through to dealing with regulators and managing all of the advocacy that was required to ensure we could build an asset class. On the marketing and execution side, we did fantastic work and I am very proud of the team."
For Mary Hagerman, who won the ETF Champion of the Year, the award was recognition for a decade promoting ETFs and believes 2018 represented a breakthrough for the investment vehicle in terms of Socially Responsible Investing.
She added: "After the financial crisis, I had this deep rethinking of how I was doing my business and what was the best way to serve clients, to give them a good return over time, at a low cost and maximize risk management. The ETF space was growing at that time and it answered my question of what was the best thing to do for my clients."
One of the night's most eagerly anticipated awards was the Young Gun of the Year, which went to advisor Filomena May, of Raymond James, who has just opened her own branch in Calgary.
She said that getting to this point required clarity and perseverance. "I'm looking to build a team, continue community involvement and charity work, and also leadership and women's empowerment. I started to mentor at the University of Calgary, so just making an impact, making a mark and teaching my children what it means to work hard and believe in what you do."
Another standout was Shannon Lee Simmons, the founder and owner of The New School of Finance, who has fostered a lively presence on social media.
She won the MacKenzie Investments Award for Woman Innovator of the Year and heaped praise on the steep competition in her field.
She said: "Everyone in that category was such a phenomenal, formidable woman - I am shocked! I am very happy but also very surprised.
"I think a couple of initiatives contributed to this. One, we have a really original business model within the family financial planning space, so getting creative and innovative with how we manage our operations team has been helpful. We also have a digital platform, which is our online school for financial literacy. It has helped us turn a service-based business into a scalable one.
"I think the combination of those, along with our use of social media, has had that trifecta, which gave to the innovation that won this award."
Joyce Marbach was visibly moved when collecting the Woman-led Advisory Team of the Year award and said it was amazing recognition for the people she has worked with for 30 years.
The portfolio manager and senior vice-president at Marbach Wealth Management said: "We have one goal and that is to do the best thing for our clients. The team buys into that goal and every day that is what we work for.
"Holly Ripplinger has been with me for almost 25 years, Cathy Willner has been with me 24 years and I am lucky that my daughter has also joined me. She has been working with our team for almost eight years. I think that is huge that we have such continuity and pretty much read each other's minds, we know what needs to be done to get the job done."
Finally, the Excellence in Philanthropy and CSR award went to investment advisor Tracey McGrath, of Richardson GMP, who said she felt "honoured and grateful".
"In the things that I do to give back, I try to touch on local and international work," she said. "I am a Rotarian, which I absolutely love to be. I help with a local social entrepreneurial organization, where it is all social investing, and I have been very involved in an organization in Africa, where one in four is still dying of aids in Lesotho."
Additional reporting by Darren Matte