SEC allows company to introduce NextShares, a group of 18 non-transparent actively-managed ETFs into the marketplace.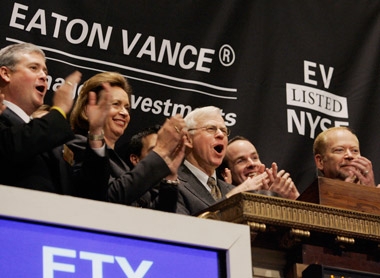 Just weeks after the
SEC rejected applications
from BlackRock and Precidian Investments to introduce non-transparent ETFs, the securities watchdog has okayed a proposal from Eaton Vance that allows the asset manager to just that.
What makes Eaton Vance's proposal different is the way the ETFs are structured. According to the company's press release it will use NAV-based trading so that "all orders to buy and sell shares are executed at NAV plus or minus a trading cost (for example, -$0.01, +$0.02) that is determined in the market. All bids and offers for shares are quoted as a premium or discount to NAV, and trading prices may be above, at or below NAV."
The series of 18 funds, which some refer to as
exchange-traded mutual funds
(ETMF), allows for trading throughout the day without the fund managers having to reveal up to the minute fund holdings preventing investors front-running the active management.
While the Eaton Vance news is a big deal In the U.S., it's nothing more than an afterthought here in Canada where non-transparent actively-managed ETFs are commonplace.
According to Mark Noble, head of sales strategy at Horizons ETFs, ETFs are regulated under NI-81-102, the same rules that govern mutual funds which allows for actively-managed ETFs to disclose their holdings on a monthly rather than daily basis. As a result the assets under management for actively-managed ETFs in Canada have grown to around $7 billion, almost 10% of the overall market.
Interestingly, while ETFs are
far more prevalent
in the U.S., actively-managed ETFs only muster $16.9 billion in assets under management or less than 1% of the ETF market down south.
It's not often that Canada leads the way when it comes to innovative financial products. Here's to front-running the U.S.