Research sheds light on the challenges and concerns that weigh on advisors' minds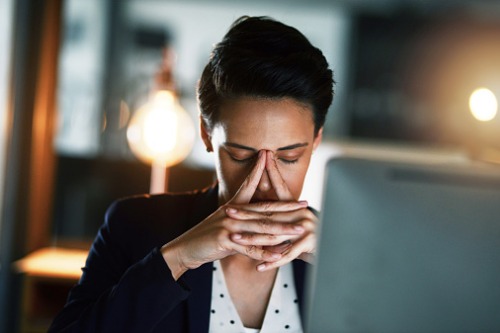 The field of financial advice, like law or medicine, is a high-stakes vocation; any given stress test, conversation, investment recommendation, and adjustment to a financial plan could have a significant impact on a client's future. It's because they have that impact on people's lives that a majority of advisors are satisfied with their job choice.
Still, that doesn't mean they're immune to the day-to-day stresses that come with it. That was the finding of a recent study titled The War on Stress, jointly conducted by the Financial Planning Association (FPA), Janus Henderson Investors, and Investopedia.
Drawing from a survey that included 336 investors and 313 financial advisors, the study found low stress levels among 29% of advisors, moderate stress among 34%, and high stress among 37%. Follow-up questions revealed that 28% of financial advisors felt higher negative stress levels than they did five years ago, and those with larger teams were more likely to say they're experiencing lower stress compared to what they felt in the past 12 months or five years.
The study then asked how satisfied they were with different areas of advisors' lives in order to isolate which ones had the highest correlation with stress. "In general, [advisors] are fulfilled by the work they do and are satisfied by the experience they provide to clients as well as the strength of their family relationships," the report said.
On the other hand, they tended to be less satisfied with some of the more challenging aspects of running an advisory business. Overall, the study found that negative stress among advisors was most strongly driven by concerns about their personal health and worries over their personal financial situation.
Advisors were also asked to identify the top two aspects of their business that cause them stress. The biggest stressors came from maintaining work-life balance (cited by 65% as somewhat or very stressful) and marketing and building the business (cited by 56%). Other top answers included:
Effectively managing client relationships and meeting their expectations (53%);
Dealing with fiduciary and regulatory responsibilities (46%);
Communicating effectively with clients during volatile markets (45%);
Adapting to rapid technological change and integration fee pressures (44%); and
Finding new team members (39%)
When asked to describe how negative stress impacts them, advisors gave different answers. But the survey found some themes that were common to both advisors and investors:
Lack of motivation
Inability to make decisions
Distraction
Irritability
Lack of focus
Lack of sleep
Weight gain/poor eating habits
"The results collected indicate that negative stress has far-reaching implications across respondents' health, sleep, mood and decision-making capabilities," the report said. "This, in turn, also affects respondents' abilities to meet their goals."