New report says 300 million jobs at risk from new tech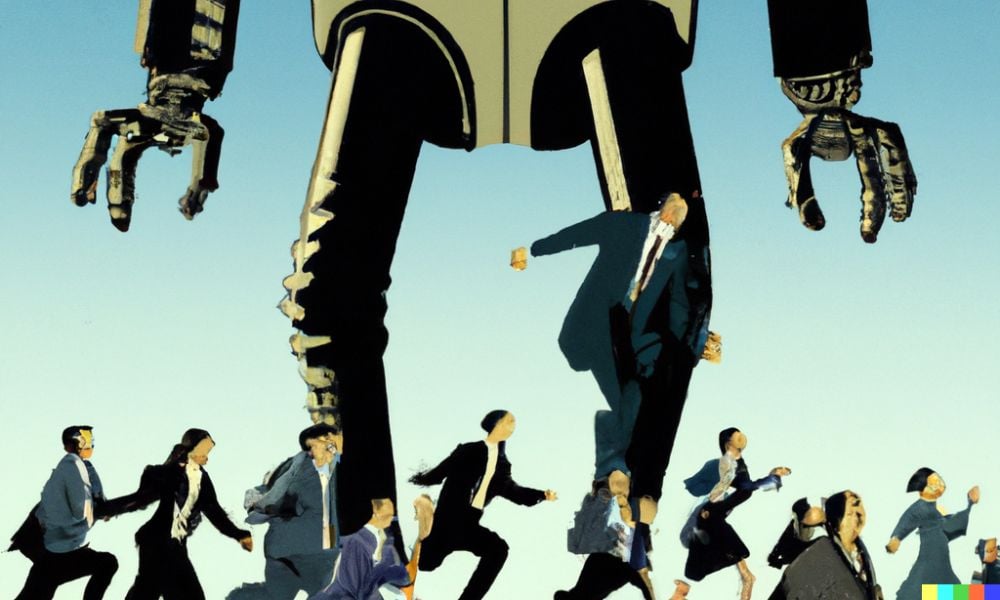 A new report by investment bank Goldman Sachs has warned that a significant proportion of jobs could be automated in the coming years as a result of advances in artificial intelligence (AI).
The report highlighted the potential economic benefits of "generative" AI systems, such as ChatGPT, which can create content indistinguishable from that produced by a human, and suggested that such technology could increase global GDP by 7% within a decade.
However, the report also warned that the technology could cause "significant disruption" to employment, putting around 300 million full-time jobs at risk of being automated. Lawyers and administrative staff were cited as being among those at particularly high risk.
The report's authors, Joseph Briggs and Devesh Kodnani, calculated that two-thirds of jobs in the US and Europe could be affected by automation. However, they also noted that most employees would likely see less than half of their workload automated and could continue in their jobs with additional time freed up for more productive work.
The report underscores the need for individuals and governments to prepare for the coming wave of technological change and to find ways to ensure that workers are not left behind in the transition.
The administrative and legal sectors are anticipated to bear the brunt of the impact caused by automation, with 46% of administrative jobs and 44% of legal jobs substitutable by AI.
Unsurprisingly, physically-demanding professions, such as construction and maintenance, have a lower risk of job displacement, with just 6% and 4%, respectively, according to the report.
In a recent Capterra report, 98% of HR Leaders surveyed said they would use software and algorithms to decide who to cull in a recession.
Who's using AI already?
Royal Bank of Canada is experimenting with generative AI to speed up software development.The technology can help developers identify code that can be repurposed for new products or create basic new code, according to Martin Wildberger, the executive vice president of innovation and tech.
Capital One has incorporated AI and machine learning as core components of its engineering workforce.The financial firm holds AI and ML patents in areas such as fraud detection and natural language processing.
Morgan Stanley has commenced testing chatbots utilizing OpenAI's GPT-4 with 300 advisers to facilitate easy retrieval of research and data. The company has plans to roll out the technology to its 16,000 advisers over the next few months.
GitHub, a software development platform, has introduced GitHub Copilot, which leverages OpenAI models to generate code based on a prompt provided by the user. The tool can recommend a wide range of code-related components, including methods, unit tests, boilerplate code, and complex algorithms.
Uber utilizes artificial intelligence to identify fraudulent activities, assess risks, ensure safety, allocate marketing expenses, match drivers with riders, optimize routes, and other aspects of its platform.
Tesla has harnessed the power of Artificial Intelligence to concentrate on two primary areas: Electric propulsion and self-driving capabilities. By developing their own AI chips, the company strives to enable their vehicles to navigate not only highways but also local streets and traffic signals