Advisor explains how a conversation about finances early in a relationships can save them from heartache down the road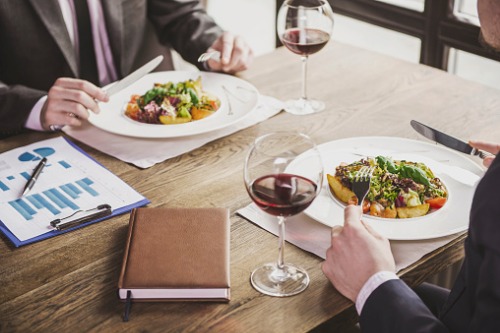 After a romantic candlelit Valentine's dinner where the wine and conversation flow elegantly and love feels tangible in the air, couples should go home and book an appointment with their financial advisor.
Okay, maybe not that night, but the next morning isn't a bad idea. Todd Neff, a personalized financial strategist at Edward Jones, thinks that couples should start talking about finances early and talking about them with a professional. Valentines is an opportunity for advisors to start broaching those conversations with clients.
"When it comes to love and finance, communication is really important," Neff said. "I believe it's important for couples to understand what each other's hopes, dreams, and aspirations are in the long-term. It can be very helpful to have a skilled professional to have those discussions with to dig into those long-term goals and really help the couple understand what's important to the other person. Sometimes those conversations can be better had with a third party that might ask some difficult questions that the couple may not ask themselves."
Neff sees the start of these conversations as a part of the ordinary know your client process every advisor should engage in. Advisors can use those conversations to gauge if the couple shares the same retirement goals, lifestyle desires, and risk tolerance. Though he insists an advisor is not a relationship counsellor, Neff thinks that an advisor can show their clients how seemingly different goals could become aligned over time.
That couple, canoodling over a chocolate lava cake on February 14th probably isn't talking about their tolerance for high-risk investments. Neff thinks that as poor of a topic of conversation investment risk is for a date, a lot of couples avoid talking about finances until they're a ways down the road. They won't ask each other the hard financial questions that an advisor will. An advisor's value, for their client, is in addressing the touchy subject in a clear, unbiased, professional setting.
"If we think about what causes a lot of relationships to dissolve, it often comes down to money," Neff said. "Money can cause a lot of stress. I think that when couples come together, they should think ahead about the things that could cause them to split apart, money being one of them. They should get on the same page as soon as possible, so that their, their dreams and their goals grow together."
If it does all end in tears, Neff thinks the advisor's job is to guide their clients to the appropriate legal counsel and act as a source of emotional support and ballast in a trying time. An advisor can offer reassurance, and a picture of what their independent finances will look like once the dust has settled on the breakup.
Neff focuses on the positive, though, and thinks an early conversation about finances can save a couple from grief and heartache down the road.
"Sometimes, partners don't want to engage in the conversation," he said. "Some have maybe had bad experiences with money in the past, or maybe their parents have had bad experiences that's been passed along to them. Advisors need to ask how they'll engage. Sometimes one partner is more engaged than the other partner and it's incumbent upon me as an advisor to make sure that I'm engaging both of them, maybe not to the same degree, but at least engaging both of them. As an advisor you should find out what they want, what their goals are, what their aspirations are, and start talking in terms of that."