The Shanghai stock market is up almost 20% since mid-June—Canadian investors have noticed.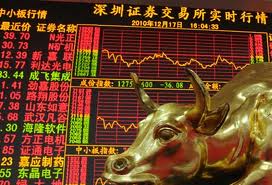 The latest quarterly report from Morningstar Canada finds Canadian Chinese-focused mutual funds were the best performers this past July. Dicey global economy aside, stocks in the middle-kingdom have been booming.
The best performing of all the Morningstar Canada Fund Indices in July was the one tracking the Greater China Equity category. The index increased 8%, reflecting growth in the Shanghai and Hong Kong Indices. Add in depreciation of more than 2% in the Canadian dollar against the Chinese yuan and the Hong Kong dollar, the total returns to Canadian investors came from China. Also doing well were the Asia Pacific ex-Japan Equity, Asia Pacific Equity, and Emerging Markets Equity categories, which increased by 5%, 3.7%, and 3.5%, respectively.
No wonder. Chinese stocks experienced the single largest monthly gain since December 2012 The
Shanghai Composite Index (SHCOMP)
has been on a world-beating rally of late, rising to 2,223.33.
China
's benchmark equity index is up almost 10% percent since mid-June. In an interview with WP, Morningstar Manager Research Analyst Vishal Mansukhanisaid explained the drivers of growth there. "Over the long-term people have concerns about the Chinese economy, but Chinese stocks grew as the government announced a couple of stimulus measure to boost growth." The government announced lower reserve ratios, allowing some lenders to give out more money, as well as a huge new railway spending budget, both of which will boost growth said Mansukhanisaid.
Some suggest the extremely rapid growth of the last month will taper from here and that the smart money will be selling into the strength.
The Morningstar Canadian Inflation Protected Fixed Income Fund Index also did well in July, posting an increase of 2%, suggesting at least some investors are worried about inflation. Consumer price indexes on both sides of the border have registered above- or at-target levels for the first time in more than two years.