After the rapid success of its world-first marijuana ETF, Horizons has filed plans to launch a second, this time focused on small-cap pot cultivation companies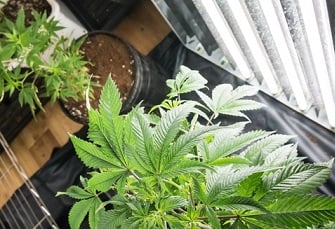 Horizons ETFs Management
president and co-CEO Steve Hawkins says the pot stocks market is nothing to laugh at anymore as he outlined plans for his second marijuana ETF.
The company has filed a preliminary prospectus with regulators in a bid to snare small-cap marijuana cultivation companies with the Horizons Junior Marijuana Growers Index ETF, ticker HMJR.
If approved, this will sit alongside the Horizons Marijuana Life Sciences Index ETF (HMMJ) – the world's first marijuana-focused ETF – which it launched in April and has $790 million in assets under management.
While HMMJ is specific to North America, HMJR's strategy is focused on smaller companies, including some from countries like Uruguay, Germany and Australia, where there is also capital market activities in the cannabis space.
Hawkins says the success of HMMJ, the expertise Horizons has acquired and the speed with which the industry is growing, meant it is perfectly placed to seize the initiative once again with second marijuana ETF.
He said: "We've seen a lot of changes in the capital markets with respect to marijuana-based companies over this past year and from an investable universe perspective, because the number of companies who have entered the capital markets has grown so significantly, it has given us the opportunity to create something a little bit more specialised; invest in marijuana cultivation companies."
He added that a year ago when HMMJ was conceived, there were not enough companies to potentially launch HMRJ. "Now we can create a 25, 30-name-marijuana-grower-only portfolio, so here we think there is a significant investor appetite in something that would be very, very specific. There will be significantly higher risk but it will be more specific to marijuana growers only."
Hawkins admits even he has been surprised by the growth of the weed market, especially in the past six months, and says those who previously talked about it with a smirk must now accept this is serious business. And with Canada on track to legalise recreational marijuana by July 1, the market is still expanding.
"There are cannabis companies in the TSX composite and there are going to be, potentially, companies in the TSX 60 down the road. This is nothing to laugh at anymore. People always had a big smile on their face when they were talking about investing in cannabis companies. In the past month or so, just in HMMJ, we've had over a billion dollars in trading. That's a lot of trading activity in an ETF – that doesn't happen every day."
If approved, the fund will launch on the NEO, which Hawkins says give the fund more flexibility with regards to US companies. He says Horizons is comfortable taking the lead in this market and wants to continue to dominate the Canada sector.
He said: "We were the world's first from a marijuana ETF perspective and we want to continue to own this space in Canada. We know how to run this space very well, and coming up with a concept like this, we felt it was very important to bring it to market."
Related stories:
Horizons announces changes to pot ETF
Plunge in cannabis stocks tests investors