Canadians had their biggest sell off of US stocks since 2008, even as the market hit historic highs. Foreign investors, meanwhile, slowed buying across all Canadian asset classes.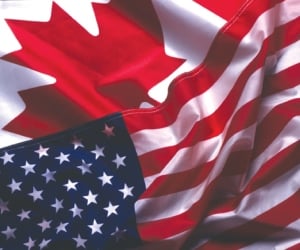 Canadian investors repatriated $1.6 billion in funds from international financial markets in May as US equities saw the biggest selling by Canadians since October 2008. Foreign investment in Canadian securities, meanwhile, slowed to $6.7 billion on lower investment in all types of securities, Statistics Canada data show.
Canadian investors sold a net $2.5 billion of US securities in the month, the largest selloff since October 2008, back in the early days of the financial crisis. Nevertheless, the US stock market was up by 2.1% in May, closing the month at an all-time high. That indicates that much of the Canadian selling was profit taking.
"I suspect Canadians have prudent financial planners who are advising them," said Marc Lamontagne, a founding partner of Ryan Lamontagne in Ottawa. "The reality is that we've had such a good run in US equities, once in a while you have to rebalance the portfolio because it isn't going to last forever. It's the old adage: sell high and buy low."
Canadians sold $2.2 billion of foreign stocks in May, all US instruments. This marked the third consecutive month of divestment in US equities.
"It is pretty significant," said Prince George advisor Christa Marques, referring to the sell-off. Still, she qualifies that investors shouldn't make too much of a single data point. "If you look at our markets there's occasional massive sell-offs here or there, but you should focus on the long term instead of just one point because markets are resilient."
Canadian investment in foreign bonds slowed to $0.4 billion in May, following three straight months of sizable investment. Investors adjusted their holdings of foreign bonds over the month by selling US government bonds and adding non-US foreign bonds, mostly in the government sector. In May, US long-term interest rates rose to their highest levels since March 2012.
Foreign investment in Canadian debt securities was $5.5 billion in May, down from $12.8 billion in April. Reduced inflows mostly resulted from lower acquisitions of Canadian bonds.
Foreign investment of $2 billion in Canadian bonds marked a fifth straight month of acquisition of these instruments by non-residents, but this was the lowest such activity so far in 2013.
Non-resident investors favoured private corporate bonds for a second month as they added $4.1 billion worth to their portfolios, led by new issues. These inflows were moderated by divestments, mainly foreign sales of federal government bonds and retirements of provincial government bonds.
Non-resident investors added $3.5 billion of Canadian money market instruments to their holdings in May, following a $5 billion acquisition in April. Purchases mainly targeted paper issued by provincial governments and federal government business enterprises. Canadian long-term interest rates were up by 35 basis points in May, leading to a widening of the spread between long- and short-term interest rates.
Foreign investors purchased $1.2 billion of Canadian equities in May, adding to April's $2.2 billion acquisitions. This activity was widespread across sectors, notably gold, energy, bank, communication and transportation. The Canadian stock market was up by 1.6% in May. The Canadian dollar depreciated against its US counterpart by 2.8 US cents.