30% of respondents in a recent poll were more concerned about financial stress than their overall health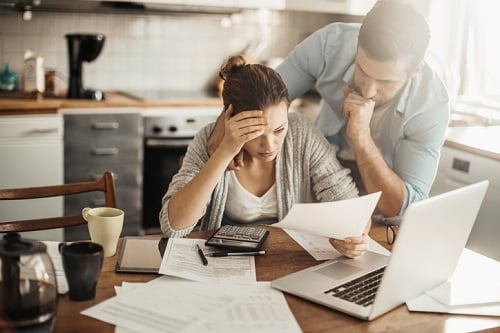 A new survey by Capital One Canada and Credit Canada Debt Solutions adds to the growing evidence that financial stress is increasingly taking its toll on Canadians.
In the online #MoneyMindfulness poll of 1,534 randomly selected Canadian adults, 44% expressed a belief that their financial situation has had a negative impact on their mental health. The perceived impact is so significant that 30% cited financial stress as a larger worry than their overall health.
The survey also asked respondents how much time they spent worrying about their responses. On average, they spent 7 hours a week in a state of worry; those for whom financial stress is the largest day-to-day worried said they spend 16 hours a week on average fretting over their money problems. In the FPSC survey, 48% of Canadians said they have lost sleep because of financial worries.
"Money is an emotional topic and is one of the biggest sources of stress in people's lives, but it is rarely talked about," said Capital One VP of Strategy and Brand Patrick Ens. "With the right resources, people can confidently plan to achieve their financial goals, whatever that may be."
As it is, being in a poor financial situation is already costing many Canadian adults. More than three quarters (76%) of Canadians who answered the survey said they gave up special experiences to save money, including vacations (53%), expensive dinners (44%), and personal grooming (36%).
Over half (56%) also said they want to be debt-free, even if it takes drastic sacrifices. That includes never travelling or vacationing again (23%), not eating out (21%), and embracing a no-spend diet (20%). That desire dovetails with recent findings from MNP, which suggested that around one in three Canadians were concerned that higher interest rates would push them. Those results were released just before the Bank of Canada announced another hike, pushing the overnight rate to 1.75%.
The survey by Capital One and Credit Canada comes ahead of this year's Credit Education Week, which will take place across the country from November 13 to 16. November has also been announced by the Financial Consumer Agency of Canada as Financial Literacy Month, with this year's theme being "invest in your financial well-being."