Our nation's wealthiest seem to be worry-free about retirement, while average Canadians aren't as confident about the future, a study reveals.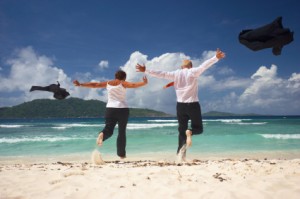 Canadians are at odds with each other over their retirement outlook, a recent study has found.
The BMO Harris Private Banking study, released Friday, found that 95 per cent of the nation's wealthiest – those with investible assets of $1 million or more – are confident about their ability to achieve their ideal retirement lifestyle, while only 69 per cent of Canadians overall feel the same way.
In addition, Canada's affluent say they require $2.3 million to live post-retirement – 2.5 times more than the $908,000 the average Canadian reports to be an adequate amount – regardless of income level.
"Regardless of your income or the amount of wealth you possess, it's important to understand that saving for retirement is not a one-size-fits-all proposition in terms of the ideal amount you need to save," said Yannick Archambault, vice president and COO of BMO Harris Private Banking, in a release. "How much you require will be determined largely by what kind of lifestyle you envision for yourself
,
including where you plan to live, how much you want to travel and other factors that could require funding."
The study – which examines trends among Canada's wealthy – also determined that 85 per cent of the affluent feel their savings and investment plans are on track. Stocks seem to be the product of choice, with 70 per cent expecting them to generate the most solid returns over the next five years, ahead of real estate (39 per cent), bonds (24 per cent) and cash (19 per cent).
"While it's encouraging that so many of the country's affluent are feeling good about the prospects for their retirement…," observed Archambault. "…it's important to be mindful that market conditions can change very quickly and impact one's investments."
Mike Bayer, a Toronto fee-only financial advisor, agrees, adding that relying on markets to determine your investment decisions is a foolish strategy.
"Most individual investors lack the emotional discipline needed to become truly successful investors," says Bayer. "Unless you have a properly structured asset allocation plan, you will always be looking for some type of forecast to guide your investment decisions. Relying on forecasts is a common and costly mistake."
Related Stories:
Canadian investors playing it safe: Survey
Canadians prioritize debt, not financial advice: Poll
Canadians are down on their financial luck