Members of the older generation are playing a major role — but that still leaves troubling questions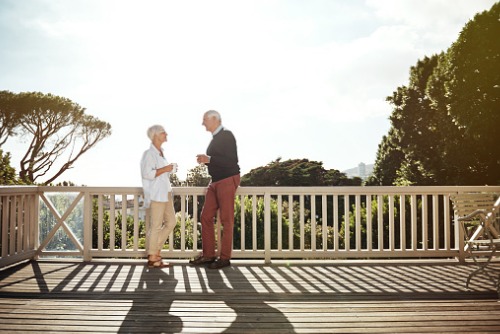 There's a general perception that once someone retires, it's the end of their time to contribute productively to society. But a new report reveals that for Canadians, retirement may actually mark the beginning of their path toward making an impact.
"Canadians over the age of 65 volunteer more hours and donate more money on average to the causes that are important to them than any other age group," noted The Revera Report on Aging: Living a Life of Purpose, commissioned by leading senior-living company Revera.
Citing figures from Statistics Canada, the report said that Canadians older than 65 years old contributed 42% of all donations, totalling more than $4 billion. The average amount donated was $2,500, which exceeded the national average by 40%.
The report also noted that Canadians 65 and older have contributed 19.5% of the total volunteer hours rendered in the country, making them the most likely to be considered super volunteers — those in the top quarter in terms of hours spent on charity work. Given that participation rate, along with an estimated value $27 per hour for volunteer work as calculated by Volunteer Canada, it was estimated that Canadian seniors' volunteerism amounted to an economic impact of $10.9 billion.
Revera also commissioned an online survey of 1,000 seniors over the age of 65 across the country. From the survey, 82% of participants said they donate money to charities or causes that are important to them, while more than one third (37%) volunteer their time.
The new findings are in line with those reported by CanadaHelps in its 2018 Giving Report. It found that Canadians who were 55 or older gave the most to charity out of all age groups, collectively giving $6.4 billion in 2015 (the most recent date for which age-based data was available at the time) — almost double the $3.5 billion donated by Canadians aged 25-54 in the same period. Those older Canadians were also the only group to have a recorded increase in amount of donation dollars, averaging 3.4% growth per year in the decade ending 2015.
Those are great feel-good figures, but they belie a discouraging future for charitable giving in Canada. According to CanadaHelps, those next in line — Canadians between 45 and 54 years old — posted the steepest decline in donation rates of all age groups, dropping 6.4% from 2006 to 2015.
"It is the top three income groups who have historically given the highest average donation amounts per family, but have had the greatest giving declines in average donations," the 2018 Giving Report continued. In the 11 years from 2006 to 2016, families with incomes in the $150,000-$199,000, $200,000-$249,000, and $250,000+ ranges dialled back their giving by 4.2%, 4.9%, and 4.9%, respectively.
Another issue arises when families move from the top of one income bracket to the bottom of the next one. In such cases, households do not tend to increase their donations; as a result, donations as a percentage of income in the overall category get dragged down.
"This demographic shift creates a widening 'giving gap,'" the report said. "It's clear that this is not a sustainable funding model for Canada's charitable sector."