Companies team up to offer high net worth investors unique investment tools and expand global reach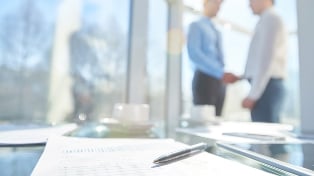 A Canadian wealth management firm has set its sights on expanding its global opportunities after forming a strategic partnership with one of the largest financial services companies in the world.
Canaccord Genuity Wealth Management
, which is based in Vancouver, has teamed up with Switzerland's Credit Suisse Asset Management in a partnership that aims to give investors unique tools and exclusive Canadian access to Credit Suisse's Capital Discipline Strategies.
According to Ed Soltys, the head of Americas third-party distribution at Credit Suisse Asset Management, the partnership will also offer ongoing professional development for advisors and will bring significant benefits to both companies.
"Canaccord Genuity Wealth Management is an ideal strategic partner for CSAM as we expand our business in the Canadian market," he said. "This relationship demonstrates our ability and willingness to work alongside a well-known and established firm that will leverage our thought leadership while providing advisors and clients in Canada with best-in-class investment solutions."
Credit Suisse has been in the news recently for a series of negative issues – suffering sizeable losses during the last quarter after a series of write-downs and also being connected to the ongoing Panama Papers controversy. However, Stuart Rufus, president of Canaccord Genuity Wealth Management in Canada, highlights that the partnership came about after careful consideration – and is one that can bring real opportunities to Canadian investors and advisors.
"Our decision to partner with Credit Suisse Asset Management is the result of a careful selection process by both parties that allows us to elevate our shared global reach and our commitment to delivering best-in-class investment solutions for our advisors and clients," he said.
"In an industry filled with commoditized investment solutions, we are committed to providing bespoke solutions for each client. As a leading independent wealth management firm, we have a strong focus on delivering truly global investment opportunities to the Canadian high net worth market."
This extensive strategic partnership incorporates a CSAM-licensed Portfolio Navigator tool that allows Canaccord Genuity Wealth Management investment advisors to evaluate their clients' unique risks and objectives to create custom investment portfolios suitable to their individual needs.