HSBC survey throws up eye-catching statistics but RBC chief warns not to expect 'positive'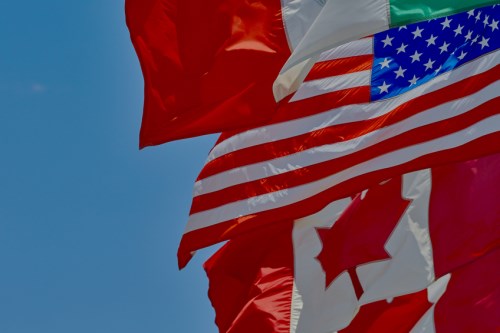 NAFTA uncertainty and the rise of protectionism have failed to quash Canadian business optimism for growth over the next two years, according to a recent survey.
The US has talked up the chances of a deal being finalized soon, although chief Canadian negotiator Steve Verheul struck a more downbeat tone, insisting there was still plenty of work to be done. Crucially, a breakthrough appears to have been made over automotive manufacturing, with the US lowering its demands.
President Donald Trump's tariff threat still hovers over talks, which are set to resume next month. However, despite the prospect of trade barriers, a report from HSBC said that, while more than 60% of business leaders polled across North America recognize the protectionism in play, 52% of firms in Canada expect the impact of the agreement to be positive over the next two years. Only 13% said the NAFTA deal would have a negative effect.
Eric Lascelles, chief economist for RBC Global Asset Management, also forecasts growth for Canadian businesses but warned them not to get carried away by thinking a deal will result in anything better than a "benign outcome".
He said: "Although the specific odds of different outcomes have ebbed and flowed, we've mostly been in the range of a 60% chance of a benign outcome for many quarters now. As such, I don't think it warrants new optimism, but there is a decent chance Canada avoids the heavy price of a bad NAFTA outcome.
"However, given the generally protectionist orientation in the US and prior steps already taken with regard to Canadian softwood lumber, as an example, Canada is not escaping the wrath of protectionism altogether."
He added: "I also expect economic growth over the next few years – even a failure of NAFTA is far from assured to pull Canada into a recession. I wouldn't hold my breath that the NAFTA deal will be substantially positive, however. A 'win' would be a benign outcome.
"While there are some opportunities for Canada, and, less likely, the US, to tear down some of its own protectionist ways such as surrounding cross-border shopping, supply management and much of the service sector, I suspect only small positive tweaks will occur on this front."
From an investors' point of view, Lascelles said that holding back is not the answer.
He said: "NAFTA prospects look a little better, but are hardly assured. The unfortunate reality is that 2018 will continue to grapple with significant uncertainty around protectionism, and likely some further protectionist actions.
"That said, I would rarely advise keeping cash on the sidelines – stock markets tend to generate positive returns even during moderately glum periods. There is undeniably a case that the mix of protectionism, bad Canadian competitiveness and housing wobbles could add up to worse than a glum outcome, but for now we look for modest but positive returns in Canadian risk assets."
Daniel Leslie, deputy head of commercial banking, HSBC Bank Canada, said that while many people's views on NAFTA have been led by emotion, the survey showed that businesses remain confident in their fundamentals.
He said: "At the end of the day, businesses still need to do business. We still continue to see growing optimism within the US economy among businesses and see strength in the US.
"When you look at all three countries that are contributing, and the US being such a large trading partner between Canada and Mexico within the US, I think in general the business environment seems optimistic.
"Certainly the trade protectionism doesn't make life easier for these companies but what we're seeing, especially when we're talking to our clients, is that many of them are private companies or public companies that are entrepreneurial and are used to being agile and adjusting quickly to the business environment."
Related stories: