Whether it's through efficiency or customer service, AI is expected to make a huge impact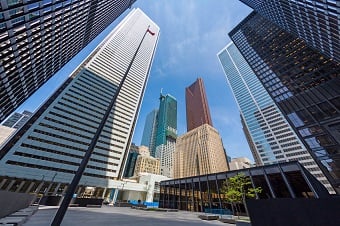 To win the war against robo-advisors, many traditional firms have been focusing on improving their service. That's what Canada's big banks have been doing — but they're taking pages from the enemy's playbook.
Whether it's through testing, investments, or limited rollouts, Canada's five biggest banks have been showing increased interest in using robotic technology for front-line and back-office applications, reported the Financial Post.
Some employees at Royal Bank of Canada (RBC) have been helping test out chatbots — computer programs that aim to simulate online human conversation — for 18 to 24 months, according to Eddy Ortiz, RBC's vice president of solution acceleration and innovation. The feature isn't going to be rolled out more widely for at least a few more months, but the bank is already letting customers do e-transfers via Apple's virtual assistant, Siri.
Toronto-Dominion (TD) Bank just recently started piloting a Facebook- and Twitter-based chatbot among a small segment of its customers, said Rizwan Khalfan, chief digital and payments officer. "It's going to be a lot of test and learn [to determine how we can] create more frictionless experiences," he said.
While TD's pilot is starting with simple tasks like guiding clients toward transactions they want done, Khalfan said the goal is to make chatbots that could, for example, flag upcoming bills and offer assistance in paying them.
"Chatbots are more about increasing customer service rather than cost reduction," Joel So, partner at PricewaterhouseCoopers' Canadian financial services consulting practice, told the Post. Cost-cutting depends more on robotic process automation (RPA), where software is programmed to perform manual, time-consuming tasks, often modelled on the actions of a human user.
According to So, three of Canada's five big banks are already using RPA. Such software bots can be programmed in as little as 12 weeks to learn tasks such as retrieving attachments from emails and finding a particular phone number.
"In theory, that means the human user can be freed up to do more judgment-based creative tasks," he said. "In reality, it often means that human users are reduced, and that turns into cost savings for the bank."
The savings won't come right away. Creating an RPA bot that replaces one or two people could require between $150,000 to $250,000, which So estimates could be recovered within one to two years.
Such "dumb" bots may become more capable in the coming years. So predicts that they will be able to interact with smarter artificial intelligence (AI) platforms to perform more complex analyses and transactions.
AI also has the potential to handle larger volumes of data, which RBC's Ortiz said all banks are aiming for. This could not only help banks see overarching trends, but also uncover needle-in-the-haystack anomalies like fraud — which Ortiz is currently working on.
"[I]f we detect something that is not normal, that is out of pattern for that specific client, we can trigger processes around that very quickly," he said. "AI will have a huge impact."
For more of Wealth Professional's latest industry news, click here.
Related stories:
100-year-old retirement provider ventures into robo-advice
Are you prepared for the robo revolution?