In financial services, information management could provide an essential edge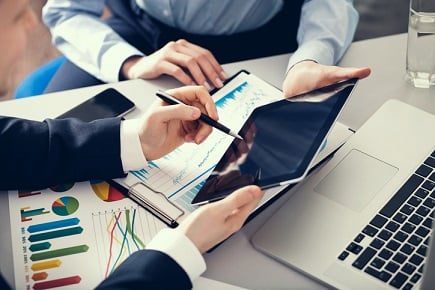 As wealth-management firms contend with increasing regulatory and operational costs, incorporating technology into their business model is becoming more important — and it could be high time for one fintech innovation to shine.
Wealth management companies dealing with tremendous amounts of money and client assets would likely benefit from the use of blockchain technology, according to equities.com. As a decentralized data system, it can be an effective alternative to cloud-based technology.
Blockchain can also act as a distributed ledger system that stores records of transactions and dealings, which can be accessed and altered only by those with permission. Set up right, the technology can help firms become more efficient when it comes to auditing and know-your-client processes — both essential parts of regulatory compliance.
Digital contracts, also known as smart contracts, can also be created and managed through blockchain technology. The terms and conditions of such contracts, which include agreements on the timing and amount of payouts, can be upheld on blockchain platforms, providing security for both the firms and their clients.
But it might be a while before the technology becomes widely adopted. Consultancy firm EY recently released a report on the benefits of blockchain in wealth management, particularly in terms of client onboarding and portfolio management. But it also noted concerns raised by firms in a poll, including issues of scalability, integration with legacy systems, and accordance with current technology standards.
For more of Wealth Professional's latest industry news, click here.
Related stories:
Savvy FAs tailor tech for financial planning
TD Ameritrade to boost tech spend under new CEO