With the UK vote to leave the European Union on one side and a strengthening US economy on the other, global investors should get set for volatile markets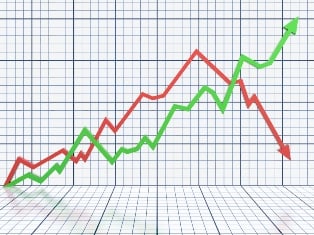 Global markets are going to see more volatility, driven by fallout from the UK vote to leave the European Union and a strengthening US economy, according to new projections from BlackRock Investment Institute.
On Tuesday, BlackRock released its Mid-Year 2016 Global Investment Outlook report, which shows a global economy that is "limping along" with the US strengthening. The report projects that global interest rates will remain low for now.
"Downside risks to global growth point to a US Federal Reserve on hold – and reinforce our view of low global interest rates for long," said Richard Turnill, BlackRock's global chief investment strategist. "A potential surprise: a rally in risk assets prompted by investors shifting out of cash and low-yielding assets in search of higher returns."
BlackRock's expectations for global growth have diminished with Brexit. The company sees risk of a recession in the UK and expects downgrades to "an already poor growth outlook" for the eurozone, according to the report.
Brexit also caused volatility to soar this year, with the VIX index of US equity market volatility hitting levels near 2016 highs, according to the report.
"Betting on yesterday's winners rising (or losers falling) further – the momentum trade – has gotten a lease on life amid low growth and easy monetary policies," Turnill said. "We see volatility driving more investment flows into our favorite assets: high-grade credit, quality equities and dividend growers."
Related stories:
ETFs boom in days following Brexit
BlackRock launches first ETF with Asian access