Christy Clark puts Vancouver in the race to be yuan clearance capital.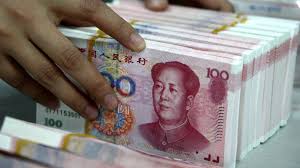 A running them in the business press this summer has been the so-called rise of the Chinese the yuan, or renminbi. In June London and Frankfurt received designation as official clearing zones for the Chinese currency. The value of renminbi payments reportedly rose between America and the rest of the world rose by 327 percent in April of this year. The percentage of China's total global trade settled in renminbi is suddenly 18%, compared to just two per cent in 2010.

Some wonder if the era of US dollar hegemony are over.

Today, the US dollar is the currency of choice for international business. But in the wake of the 2008 and 2009 financial crisis the value of China's vast US treasury holdings took a hit. Communist party officialcs embarked on a mission to make the yuan a currency challenger to the US dollar.

The predictions of the demise of the US dollar are certainly running ahead of reality. The yuan has a long way to go before it is used in anywhere near the number (and value) of global transactions denominate in the US dollar. But events are skipping alon0g.

In an apparent bid to get Vancouver in the same club as The City in London and Frankfurt, B.C. premier Christy Clark recently announced a new provincial goal: Make Vancouver the first offshore settlement centre for the yuan in North America.

CTV reported this week that Christy, speaking to a trade delegation from China, said the province is ramping up efforts to make trade deals with Asian nations, in part by becoming the first international trading centre for the Chinese currency in North America. The government wants to persuade Asian head offices to set up in B.C. The province will introduce legislation in the fall to help convince Chinese investors to set up on Canada's west coast. Clark reportedly told the invite-only that her staff reoriented a massive map outside her Vancouver office so that it shows western Canada on one side, eastern Asia on the other. "Which is now, we believe, the centre of the world. The decision to build relationships was eminently obvious for us," Christy was quoted as saying.