A new report shows active funds are underweight Apple when compared to indexes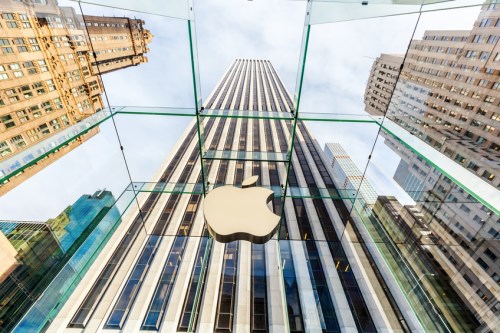 Apple's share price is hitting record highs, but active fund managers around the world don't seem to be too interested.
In a research note, global investment bank UBS said that active equity fund managers worldwide are holding the lowest percentage of Apple shares in their portfolios compared to the iPhone manufacturer's weighting in indexes, according to
Reuters
.
With the current positioning, Apple could run even further if pushed by portfolio managers chasing performance. The company experienced a record-setting rally that boosted share prices by 56.4% over the 12 months leading up to Monday's close.
"Active fund managers as a whole continue to underperform their benchmarks and are not going to want to leave a lot of performance on the table if they continue to see this company rally," Todd Rosenbluth, director of ETF and mutual fund research at New York-based research firm CFRA, told
Reuters
.
The benchmark S&P 500 index has experienced a 6.7% year-to-date gain — a number that only a third of large-cap core mutual funds have beaten. This adds to the increasing pressure for portfolio managers to prove themselves against increasingly popular low-priced, benchmark-tracking ETFs and index funds, according to Rosenbluth.
UBS based their ranking on institutional investment in individual stocks. A stock's so-called "investor weight" was calculated by comparing the total dollar holdings in that stock with the overall fund portfolio. The investor weight was then compared with "the relevant equity index benchmark to form the active weight."
In terms of their Apple interest, global fund managers had an investor weight of 1.3%, and an active weight positioning of -0.6%, UBS found. A regulatory filing showed Warren Buffett's Berkshire Hathaway owning 57.4 million Apple shares as of Dec. 31 — nearly four times as much as the 15.2 million shares it held just three months prior.
Year-to-date growth for Apple shares has reached 26.8%, fuelled in no small part by a new iPhone model expected to be released in time for the flagship product's 10th anniversary in September. iPhone sales — which make up 69.4% of the tech giant's revenue — exceeded expectations for the quarter ended Dec. 31, easing concerns that consumers would switch to cheaper alternatives or put off upgrading from their current phones.
"You're not seeing a slowdown in demand ahead of a major upgrade year, and there's a potential for higher costs and margins with the new model," Steve Chiavarone, a portfolio manager at Pittsburgh-based financial services firm
Federated Investors
.
For more of Wealth Professional's latest industry news, click here.
Related stories:
In bond fund space, active management pays off
More mutual funds jumping on the ETF bandwagon