New research shows that many are better prepared for weather-related events than financial emergencies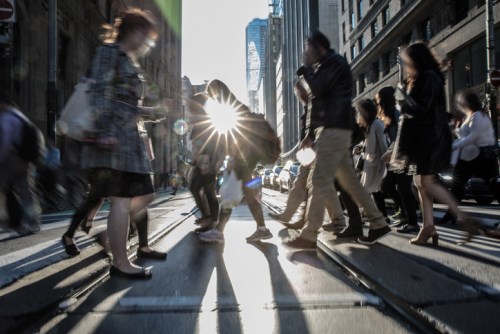 According to a new poll from RBC, Canadians are more likely to check for sunny weather than they are to check for money issues.
A recent poll by the bank has shown a full 62% of Canadians go online or log on to an app daily to check the weather. But roughly half (44%) admitted that they are better at preparing for literal rainy days than they are at bracing themselves for financial emergencies.
Other findings include:
Over a third (35%) follow stories about extreme weather online or through social media every day, as opposed to only 19% who keep up on finance or business news
Even though nearly nine tenths (88%) think checking on their finances digitally is no harder than check the weather, only 30% habitually monitor their finances.
Among those who do not often check their finances, 43% said they have it all tracked in their head. But more than half of Canadians agreed that banking apps are one of the most useful and valuable apps on their phone (63%), with a similar majority saying the same about their weather apps (60%)
"Staying digitally connected with your finances has the added benefit of prompting you to take action to build your financial future – much the same as a weather forecast predicting storm clouds prompts you to pull out an umbrella," said Richa Hingorani, senior director of Digital Strategy at RBC. "While you don't need to check in on your finances each time you head out the door, knowing what lies ahead of you, and being able to plan for the future, is crucial."
While keeping digital tabs on your finances can help, other expert research has suggested that the ability to use electronic finance platforms isn't a substitute for real financial sophistication. There have also been studies to suggest that using their money solely through a digital platform could cause people to be disconnected from their finances. For that reason, Hingorani suggests that clients using digital finance platforms also work with experts, such as the financial advisors who can be contacted in real time through RBC's MyAdvisor platform.
RBC offered a few other tips for Canadians:
Think of your finances as going through different seasons. January and February is RRSP season, while home buying and selling activity picks up during spring and fall. September is back-to-school season, making it an ideal time to start or review one's RESP.
Have a good financial plan and digitally monitor your spending, cash flow, and debts. That can help keep your finances on track and your mind at ease.
Pay your debts strategically. Those who can't pay all their debts at once should generally start with the highest-interest obligations first, then move on to the next-highest-interest debt.
Create an emergency fund. A good rule of thumb is to start with at least three months' worth of income in savings.
Take advantage of digital tools, online resources, and expert advice.