Canadian financial advisors may be helping their clients more than they think... by giving them peace of mind, says a national investor survey.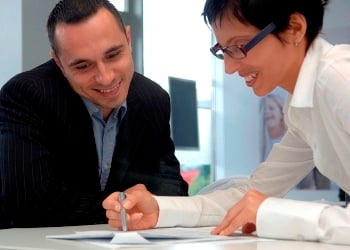 Canadians who have a financial advisor are far more confident about their financial futures than those without, the July 2013 Manulife Financial Investor Sentiment Index revealed.
"Having a financial plan and a financial advisor to help you is key and it's important that Canadians understand that they don't have to have a lot of money to have those things in place," said Paul Lorentz, Manulife Canada executive vice-president for retail.
"The overall index, which is +29 [points] for Canadians with a financial advisor compared with +19 [points] for Canadians without an advisor, clearly shows that having access to professional financial advice to help you stay on track can provide a certain peace of mind," Lorentz said, noting higher scores indicate greater confidence.
The survey revealed that younger Canadians are taking more care when it comes to financial planning than they had in autumn 2012. Generally, Canadian investors aged 25 to 34 are becoming more financially conscious, increasingly active in saving and in long-term financial planning.
The broad index was up two points since November 2012 at plus 22 points. Overall, index ratings were highest for the youngest cohort, Canadian investors aged 25-34, at plus 26 points. The results for affluent Canadians, those with an income of $75,000 or more and investable assets of $100,000 and up, were similar to younger investors.
The ranking marks a substantial increase over November 2012 sentiment scores when younger Canadians had the lowest overall sentiment ranking at 15 points. Today, 55% of younger Canadians, up from 46% in the last index, are more likely to say that they are in a better financial position today than two years ago while 52% remain optimistic that they will be in a better financial position two years from now.
Continued on p.2
#pb#
The number who said they are on track to meet their financial goals remained steady at 37%, but there was an increase in the number of younger Canadians who believe they are ahead of plan, at 7% from only 4% in the last index. Additionally, 41% of younger investors are more likely to say they are behind on their progress toward their financial goals, but are likely to catch up.
"It's always good to see investor sentiment improve and it's encouraging to see optimism in younger investors about investing and saving," said Lorentz. "Younger investors obviously have the benefit of time on their side … [but] It will take good savings discipline, the right financial plan and smart investments to ensure they continue to meet their financial goals."
Despite the optimism in investing and saving by younger Canadians, the index shows that the majority of Canadians are focusing on paying for today's lifestyle and being more conservative in their spending, rather than focusing into the future.
Half of Canadians said they have taken steps to reduce their spending this year. But when it comes to longer-term financial planning, more than one in four (26%) said they do not have an overall financial plan in place. Of those who do, only half (52%) have reviewed their plan in the past two years. Only 3% of Canadians indicated that obtaining or updating a financial plan was among their priorities for this year.
In terms of financial priorities, 41% of respondents said they were concentrating on paying down debt, 38% on maintaining their current lifestyle and 23% paying off their mortgages. Only 9% of Canadians, and only 3% of Canadian investors aged 35-44 indicated that saving for retirement is one of their key financial priorities this year. However, less than half (45%) of Canadians believed they have sufficient retirement savings set aside.
The index is a semi-annual measure of investors' views on a range of asset classes and savings and investment vehicles, as well as their confidence in these areas. The index is based on an online survey of 1,000 Canadians aged 25 and up. It was conducted between May16-27 by Research House, an Environics Company.