Offering potential for low volatility and income stability, the Franklin ClearBridge Sustainable Global Infrastructure Income Fund is taking advantage of significant tailwinds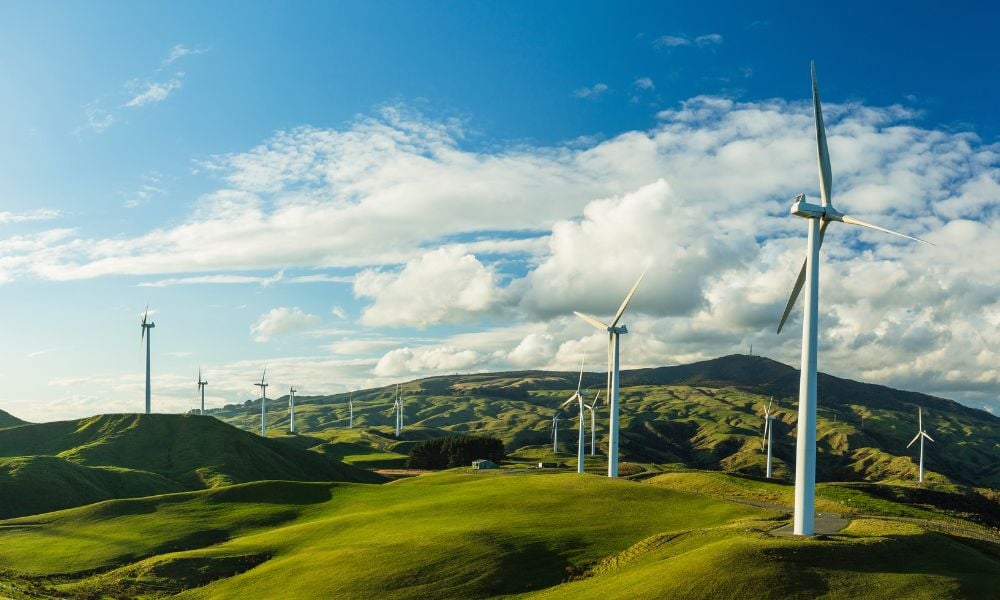 This article was produced in partnership with Franklin Templeton.
Infrastructure is the foundation of the world's economy. Electricity, gas, clean water, air, road and train travel, not to mention the internet, are all examples of infrastructural assets in which Franklin Templeton invests.
The asset class, which comprises those assets that provide services essential to our everyday lives, the services we use and interact with every day, may sound prosaic but it is anything but humdrum for canny investors.
Consider its advantages. Whether the markets are booming or stagnant, our use of infrastructure remains fairly constant over time, hence it is less affected by economic downturns.
It can also present a solution for many of the issues that are concerning investors right now, including economic and geopolitical uncertainty, environmental problems, inflation and of course, rate hikes.
David Wahl, senior portfolio specialist at Clearbridge Investments, an affiliate of Franklin Templeton Canada, which manages the Franklin ClearBridge Sustainable Global Infrastructure Income Fund and Franklin ClearBridge Sustainable Global Infrastructure Income Active ETF, expects the current bear market to develop into a "full force" earnings recession this year but believes that it will have a muted effect on infrastructure.
He said: "Sometimes the headwinds for other investments are tailwinds for infrastructure investing. And it can solve many issues, like income stability and [providing] a predictable inflation hedge. I think [infrastructure] is a great opportunity now and in the future."
To hear more from David Wahl, listen to this special edition of WP Talk focusing on infrastructure investing.
Another attractive aspect to infrastructure is that it is set to enjoy growth in emerging markets, with demand from increasing urbanisation and pressure from an affluent growing middle class. But there's also growing demand for it in the developed markets thanks to increased capital and productivity as well as the ongoing need for infrastructure maintenance.
The growing demand for infrastructure comes at the same time that governments' budgets are ever more constrained, meaning the private sector will play a key role in the sector's story. But Wahl thinks governments will continue to drive infrastructure growth.
"From our perspective, that's in the listed infrastructure sweet spot," he observed.
Also significant will be the green stimulus around the globe, the encouragement of renewable investment and the long march towards Net Zero in 2050, all of which are poised to drive more growth in infrastructure.
Infrastructure provides low volatility and income stability. As the Sustainable Global Infrastructure Income Fund is an actively managed ETF in a period marked by declining growth with inflation, it can rotate towards those regulated utilities.
The ClearBridge Investments team is a large global investment team dedicated to just listed infrastructure – it has no investments in infrastructure debt or unlisted assets – and has a deep knowledge of regulation in the space. Risk adjusted returns to equity is paramount to everything it does, informing its aim of constructing a portfolio that delivers long-term, stable returns with low volatility, rather than aiming for the highest returns without considering risk.
Wahl said: "Relative to most infrastructure indices and other managers, we have a more focused view of what constitutes infrastructure. We think that pure infrastructure is assets with monopoly characteristics, long life assets or contracts and relatively stable and predictable cash flows."
Active management suits infrastructure rather better than investment styles that cling like limpets to benchmarks. It gives Franklin Templeton the ability to be agile and move away from sectors and regions when prudence dictates.
"Not being beholden to an industry or a benchmark really allows us to pursue those absolute returns and not worry about relativity," Wahl said.
Infrastructure investment can be an evergreen solution for all needs. It is especially attractive in the current rocky economic terrain, which presents an opportunity for investors to take a portion of their equity portfolio and de-risk it by adding infrastructure.
Public policy, fiscal policy and the secular growth story all underpin the attractiveness of the asset class. Wahl said: "You always want to invest alongside public policy as an investor. And policy right now is that we need energy security. And to do that, we're going to have to build a lot of infrastructure."
The high gas prices and supply constraints brought on by the Ukrainian conflict have all highlighted the importance of the energy investment and the energy security that is needed.
Wahl added: "One of the PMs on our team says don't fight fiscal policy, invest where the government money is going. Then there's secular growth; there's a real dire need for infrastructure spending. And that's going to underpin growth for the next decade and beyond."
To hear more from David Wahl, listen to this special edition of WP Talk focusing on infrastructure investing.
Disclaimer
Important Legal Information This material is intended to be of general interest only and should not be construed as individual investment advice or a recommendation or solicitation to buy, sell or hold any security or to adopt any investment strategy. It does not constitute legal or tax advice. The views expressed are those of the investment manager and the comments, opinions and analyses are rendered as at publication date and may change without notice. The information provided in this material is not intended as a complete analysis of every material fact regarding any country, region or market. Commissions, trailing commissions, management fees, brokerage fees and expenses may be associated with investments in mutual funds and ETFs. Please read the prospectus and fund fact/ETF facts document before investing. Mutual funds and ETFs are not guaranteed. Their values change frequently. Past performance may not be repeated. Franklin Templeton Canada is a business name used by Franklin Templeton Investments Corp.