Wealth manager on helping business owners get real value, generation transfer and how his father is 'in his corner every day'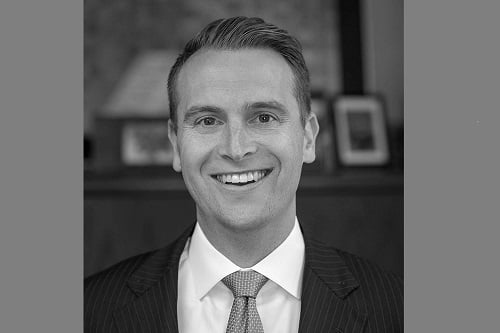 Jamie Townsend prefers to "rise above the noise" of the markets and focus on pursuing customer value.
It's that relentless quest for excellence, according to the wealth manager at Lawton Partners, that fosters close family relationships through generations and stops the service becoming a cold sales transaction that cultivates little loyalty or referrals.
Townsend believes this approach has been crucial in building his practice, which works primarily with business owners and professionals. His team possesses MBAs, CFAs and, more unusually, a chartered business evaluator, which means clients' companies can be valued and have the details of what is happening in their business integrated into a financial plan.
He told WP: "It makes us fairly unique at the moment. There are not a lot of teams that have a CBB on staff. If you think about it from a business owner perspective – that's one of their largest assets and for most of them, they are really banking on being able to sell that business for a decent dollar when they are done.
"If we can help make that business more efficient, if we can help them run the numbers a bit tighter to help them make a big number at the end, then by all means we'd like to help with that conversation."
Working with families and business owners means Lawton Partners have to have difficult, sensitive conversations with clients about what is going on in their lives and what they want to achieve with their money and legacy.
Townsend recognises that this and the transfer of wealth from the baby boom generation is going to one of the main challenges and opportunities facing the industry in the coming years. He has a Family Enterprise Advisor designation in preparation for this – to add to his own personal experience of working with his father in the business.
This level of client attention is why picking companies to invest in is outsourced to a portfolio manager, freeing up time to work with clients on a more personal level.
Townsend said: "The investments are one component, a major key, but there is a whole bunch of other stuff that comes with it.
"Sometimes a professional or business owner or a key member of the family has had a tough time, so having true, real conversations about what`s going on … sometimes we can be a catalyst to have those confidential conversations.
"Technical things like investment strategy and asset allocation are one thing but it you truly look at what happens over a period of time; it`s behaviour. That sometimes involves difficult conversations about what is going on in somebody`s life."
On the flip side, it also involves hailing the achievements of a business owner who has had an incredible year. Good times or bad, when it comes to wealth transfer and passing down family values, Townsend is able to empathize on a level uncommon among his peers.
Working with his dad, Wayne, has been a blessing. Jamie admitted they don`t always agree but recognised the impact of always having someone in his corner 24/7.
He said: "That has allowed us as a family to not look quarter to quarter but to have conversations about where we want this thing to be in five, 10 or 15 years. That different perspective allows us to build something that isn't dependent on someone announcing what their earnings were for that quarter – we can take a truly long-term perspective."
He added: "You have a massive generation, the baby boom generation, who is looking to do something with their business and a lot of them pass the business on to their family. We're in their shoes! I know exactly what that feels like – we're in the middle of it.
"That allows us to have conversations where I can say I have felt what you have felt. I have been awake at 3am thinking about what you are thinking about; that allows us to have unique perspective."
For Townsend, that personal connection is all linked to adding value to clients' lives. It's also how he believes he has grown his book, believing firmly that if you provide an "exceptional service" to people, everything else will take care if itself.
He said: "Everything else works out if they are doing an exceptional job - it leads to referrals, clients who stay with you for ever, your retention rate is high and you get to enjoy the benefits of the compounding of that relationship.
"If you don't do that, the rest of it becomes a sales transaction and I think that's a really hard business to be in today."
On a daily basis, Townsend points to the intensity of market noise as a distraction for investors targeting long-term success. Communicating what matters and why to clients is the most important thing – as is his team's focus on owning quality companies with increasing cash flow via dividends.
Townsend believes the disconnect between the reality of what a business is worth and its market value, plus the impact of macro events, provides only opportunity but that his strategy is not dictated by that. "We want to focus on good businesses," he said, "that's the primary core."