As president of Fidelity Investments Canada, Rob Strickland has learned that the key to long-term success is finding an advantage and remaining one step ahead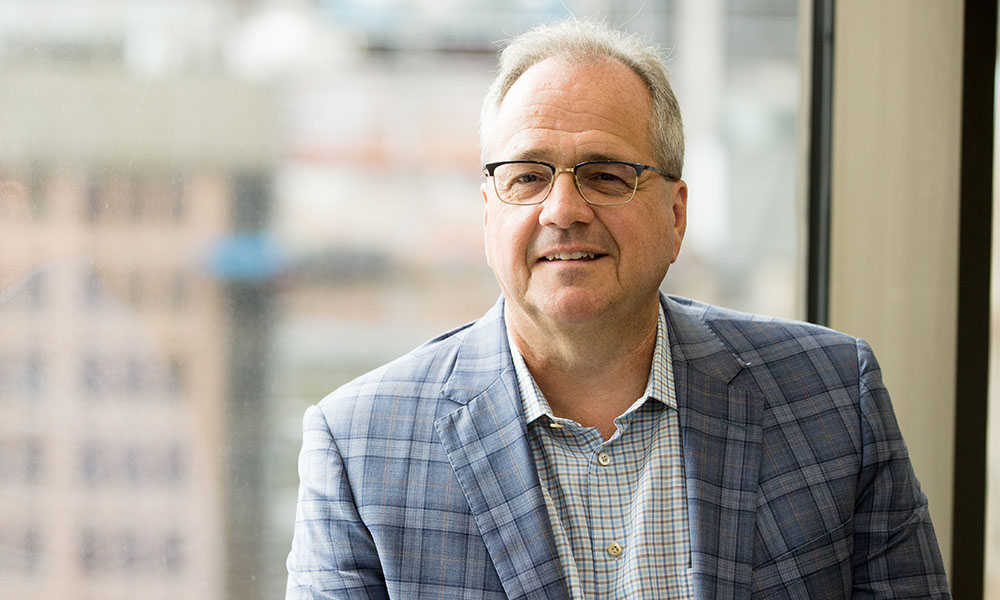 For the past 15 years, Rob Strickland has been heading up Fidelity Investments Canada. During that time, the asset manager has grown significantly, and much of that growth can be attributed to Strickland and the career lessons he has brought with him.
Strickland grew up in Guelph, Ontario, where his father frequently had a newspaper open to the stock pages. "I couldn't help but pick it up and wonder about those things," Strickland says, "It created interest – they went up and down each day, and it looked like a fun thing to do," he says.
He began his own investing journey as a teenager in 1974. "You couldn't start then and not have it affect your life – it was probably the easiest time to make money in equity markets," Strickland says. "That has stuck with me – I wish it would have always been that easy, but it didn't turn out that way."
The combination of his early success and father's influence pushed Strickland toward an education that would allow him to enter the financial industry. But by the time he graduated from Wilfrid Laurier University with a business administration degree, the market was much tougher, and Strickland struggled to break into the industry. In 1986, he got his chance as an advisor with Nesbitt Thompson. He remained there for eight and a half years, moving up to assistant branch manager and eventually branch manager.
Standing out
Strickland's next move was to TD, where he worked as a national sales manager at TD Evergreen under Jeff Carney. When Carney moved on, Strickland took over as president. He then had the rare opportunity to go to Japan to help establish TD Waterhouse's online brokerage. It turned out to be one of the biggest challenges of his career and a significant learning experience.
"Showing up there trying to find a way to differentiate in a crowded field was pretty tricky stuff," he says. "We were late to Japan – by the time we got there, there were approximately 55 online brokers. We tried hard, but it was tough to break through. We did a joint venture with Bank of Tokyo-Mitsubishi – they were largest in the world, and we thought it would give us leverage with clients. It was a tough, competitive marketplace, and we needed something to distinguish ourselves.
"The lessons I took from the experience were you must find a niche or an aspect of the market you can do better. You need to get in early, get better than everyone and stay better. That is what we try to do at Fidelity Investments Canada."
Strickland joined Fidelity in 2003 as head of sales and was promoted to president in 2005. "I had always watched Fidelity – their reps spent a lot of time in the Nesbitt office I was in, so I was close to them from the get-go," he says. "To me, it seemed like a company that supported advisors better than others. I also saw people join the company, and their careers did very well. I was thrilled when I got the opportunity."
While he enjoys all aspects of his current role, Strickland says there have been some standout moments. "The launch the Fidelity Global Innovators Fund was a highlight," he says. "It was one that advisors told us the style of product they wanted and asked if we could construct it. We did and launched it at an event at Roy Thompson Hall. We don't know what the record for a first day of new assets is, but we think we shattered it with a first-day take of $91 million, so it was fun to participate in that."
ETFs and beyond
Fidelity has long been known for its expertise in mutual funds, but it recently celebrated the two-year anniversary of its debut in the ETF space, where it's already amassed $1.8 billion in assets across 31 funds. Fidelity has found a niche with factor-based ETFs, but Strickland says that's just the beginning.
"For a long time, we wondered if there was a role we should or could play in the space," he says. "As the ETF industry evolved, we saw opportunities to bring other approaches, even in the active range, so we knew there was a role for us. We felt we brought expertise in two areas: star managers and sophistication in asset allocation. We have more market share in the balanced category in mutual funds than we do in any other category. We can take star managers and allocate assets amongst them, and that adds value and shines for us in the mutual fund world. We think the opportunity will be more significant in the ETF world."
Furthering Fidelity's presence in the ETF industry is one of Strickland's goals, but it's not the only one. "There is more work to be done in the mutual fund world," he says. "We continue to launch new products; there are new opportunities to help advisors and investors. Also, we are interested in the way the marketplace is evolving in terms of the way young investors approach it. Young investors are hungry for information and tools. We will see what we can do to help them as well."
In doing so, Strickland turns to a piece of advice that has helped him throughout his career. "There were many people who told me in my 20s that I needed to be a better listener," he says. "At first I was offended, but eventually I realized they were right. There is a science to listening. As I became a better listener, I became better at my craft. I have received a lot of advice along the way, but I think that has been the most valuable. Taking time to understand what's on the mind of customers makes things easier."