Vanguard Canada managing director Kathy Bock didn't set out to join the investment industry, but she couldn't help but be drawn by Vanguard's dedication to meeting the needs of investors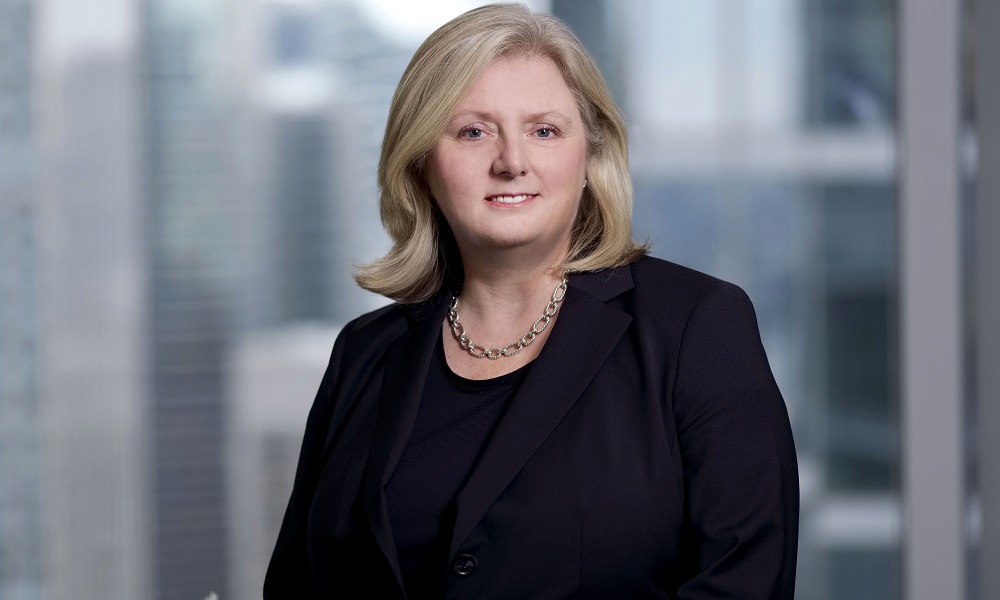 Last year, Kathy Bock assumed the role of managing director for Vanguard Canada in Toronto. Bock has been with the company in various roles since 1997, primarily based out of the firm's head office in Malvern, Pennsylvania. It was Vanguard's unique structure – the company is owned by its mutual funds in the US and therefore owned by its US investors – that initially attracted Bock.
"The decision for me was not to join the industry, but to join the company," she says. "It is a mutual ownership structure. That means our interests are totally aligned with our investors."
Bock originally trained as an accountant, graduating from Temple University in Philadelphia, the city where she was born and raised. After graduation, she began working in public accounting with PwC, holding roles in multiple countries; when she returned to the US in 1997, she joined Vanguard. During her time with the company, Bock has held various positions, including assistant treasurer of the funds, director of internal audit and head of the Americas region. She also had the opportunity to complete the Advanced Management Program at Harvard Business School.
"I was head of internal audit for Vanguard for about eight years, and it was an interesting role," Bock says. "It allowed me to learn so much about this business. It was a global role, so I got very familiar with our international businesses."
Bock joined Vanguard's international team in 2015, and one of her first milestones was establishing the company's presence in Mexico. "Part of my role was to look at our strategy in the region," she says. "We decided to open a business in Mexico and launched it two years ago having the chance to develop a strategy, launch a business in a new country and see what we're able to bring to the market has really been a highlight of my career."
All about investors
When she became managing director of Vanguard Canada, Bock moved to Toronto, which she says she's enjoyed thoroughly. Now, she's set on getting the word out to more Canadians about Vanguard and its mission to take a stand for investors and give them the best chance for success.
"I think we've been lucky to be at the forefront of helping Canadians achieve investment success," she says. "We measure our success by the success of our investors, providing them with high-quality ETFs, bringing indexing in a big way to this market and bringing some simple but high-quality solutions. Our embedded advice products, the asset allocation ETFs, have been really successful in Canada, which I think speaks to the varying needs investors have."
Vanguard's asset allocation ETFs recently surpassed $2 billion in AUM, including $1 billion in the Vanguard Growth ETF Portfolio (VGRO). "We don't set goals in terms of growth; a lot of organizations do that," Bock says. "For us, year after year, our goal is about serving advisors and investors as best we can, putting the client at the centre of what we do, having the best-performing products we can and keeping costs low."
That relationship with advisors is another source of pride for Bock. She recognizes that the advisor's role is changing, and Vanguard has tried to be an ally by providing advice and guidance.
"We have a body of work that we've done on advisors' alpha, which explains how advisors add alpha to a portfolio in ways that might surprise investors, through holistic wealth management principles," she explains. "We've tried to help advisors with research, tools and information that can help their clients reach investment success. That's another piece of the work we've been able to do in Canada that we think has been valuable."
Room to grow
Vanguard has been growing its presence in Canada since expanding to the country in 2011. As of the end of October, Vanguard was the third largest ETF provider in Canada, with 39 ETFs totalling $23.4 billion in assets.
"One thing we're focused on right now is getting the word out about Vanguard in a bigger way," Bock says. "Investors who know us love us, and we're proud of that, but we have a lot of work to do to get the word out and tell the whole Vanguard story."
To do that in what Bock identifies as a challenging market, she says Vanguard will reinforce its principles for investment: offering core products that are broadly diversified, transparent, simple and use distribution models that are as conflict-free as possible.
"For us, we don't pay a commission to distribute our products," she says. "Here in Canada, a market that's heavily tilted towards embedded commissions, that's especially challenging."
Despite those challenges, Bock sees lots of opportunities to serve investors. She says her experiences with Vanguard over the years have been beneficial to her own learning – every day, she reflects on the small moments and filters them to use in her own thinking going forward.
Bock also puts a high priority on leadership, something she's very passionate about. She says one of the best pieces of advice she's received came from her grandmother, and it's something she uses now to craft her leadership style.
"My grandmother had a saying, which was, 'Don't see so much,' and I've made this my leadership mantra," she says. "As leaders, I think it's important to know you don't always have to be perfect, and this quote is about creating an environment that allows people to experiment, take on new challenges, be creative, and have a safe place where it's OK to make mistakes and be imperfect. These mistakes are necessary to learn and grow as leaders."