Elie Nour is using his experience in the financial industry to help future advisors gain a foothold in wealth management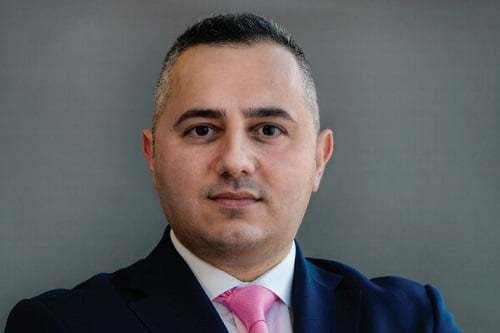 With 3 years in the financial industry behind him, Elie Nour has learned a thing or two. He's been forced to adapt to major changes to regulations and technology, and in September, he celebrated the launch of his firm, Nour Private Wealth, as an independent IIROC dealership with locations in Oakville, Toronto and Montreal. Yet Nour's greatest accomplishment might be using his experience to mentor the next generation of advisors as his firm continues to grow.
After graduating from McGill University with a degree in economics, Nour knew he wanted to get involved in wealth management. At a job fair, he met with Berkshire Securities and was immediately interested in working for the company. He was told to go work at a major bank and get six months of experience, but Nour was eager to expedite the process.
"After a couple months, I met one of my friends who was working for Berkshire," he says. "I told him, 'Do whatever it takes to get me an interview.' I ended up interviewing with the same person who told me to go get the experience. He didn't recognize me, but he saw how driven and hungry I was to succeed and hired me."
From the start, Nour made an impact at Berkshire, breaking records in his first year. He kep that momentum going when the firm was acquired by Manulife Securities in 2007. Nour also continued to expand his own skills, earning his insurance designation in 2008, CFP in 2012 and CIM in 2016.
As his team and client base grew, Nour added a new location in Oakville, Ontario, in 2013, moving from Montreal to the area with his family. Nour soon recognized that in order to have skilled advisors under him, he needed to ensure they were being properly prepared for the industry.
"I think it's important for new advisors entering the business to pick the right mentors," he says. "It's all about getting the proper training from the right people. There's a lot of advice out there, but a lot of it isn't the right advice."
In addition to hiring "established advisors who want to take their business to the next level," Nour Private Wealth also welcomes new entrants to wealth management, offering them a thorough training program.
"For new advisors, we put them through what we call 'school,' where we cover a variety of topics," Nour explains. "Then they are assigned to work with one of the senior advisors, who train the associates. Typically, it takes about 12 to 18 months for an associate to become fully licensed. While they are training, they take part in all aspects of the business. Once they are licensed, we start moving accounts over to them. I meet with senior advisors on a monthly basis, all advisors every three months, and we have a weekly meeting with associates. We are on top of things the whole time."
That approach to mentorship is one of the factors behind Nour's success. It's also something other advisors have taken notice of – he's already had interest from others looking to join his newly independent firm.
While Nour has an eye on continued expansion, he's currently focused on ensuring that his team is prepared for what might come. Believing the bull market will fade by 2020, Nour says his team will prepare by scaling back on equities and increasing their fixed-income position.
"Over time, we think interest rates will keep going up," he says, "so [the fixedincome] portion of the portfolio is smaller but will boost performance. Every penny in the account needs to be working hard."
Hard work is also something Nourexpects from every member of Nour Private Wealth. It's why he feels his firm has been successful, and it will be key to maintaining momentum as an independent firm.
"We put everything into training our advisors to make sure they succeed," he says. "If they are serious about it, we will be more serious about training them."