Frank Laferriere has always had an appreciation for advisors. Now, as SVP and COO of Mandeville Private Client, he's helping advisors differentiate themselves and find new avenues to create wealth for their clients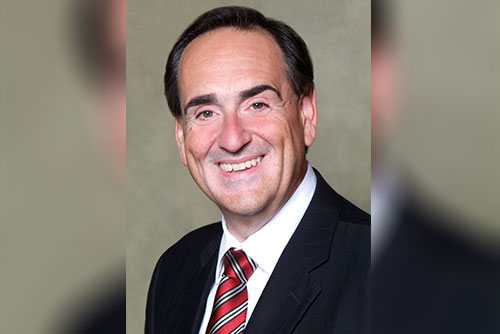 Growing up on a farm in Northern Ontario, Frank Laferriere learned the importance of community, hard work, problem-solving and helping your neighbour. Those qualities have stuck with him throughout his career and continue to motivate him to this day in his role as senior vice-president and chief operating officer of Mandeville Private Client.
Laferriere was first attracted to the financial services industry while working on his family's farm. "Every year, when the accountant came to do the farm's books, he had a new car and a tan; I said, 'I've got to get some of that!'" he recalls. "So I deselected farming and went on to become a chartered accountant."
After earning a degree in commerce, finance, management and taxation from Laurentian University, Laferriere got his start at KPMG in Toronto. "They pretty much hired my entire graduating class," he says. "They flew us down and showed us the bright lights of the city. It was quite the experience for a country boy. They also showed us a career path that involved multiple industries."
One of those industries was wealth management, and Laferriere instantly took to it. "I saw advisors as performing a noble function – helping people achieve their dreams but also plan for the worst," he says.
After leaving KPMG, Laferriere had the opportunity to work for Molson in a number of different countries, which left him with the realization of the potential Canada offered. His perspective widened while working in the government for the Canada Revenue Agency and Office of the Superintendent of Financial Institutions.
"There are lots of smart people at those agencies, and it taught me to look at things differently and keep those perspectives in mind," he says. "There is a different motivation in the public sector, and different tools are employed. I was fortunate to get that experience."
An entrepreneur at heart, Laferriere eventually returned to the investment industry. In 1998, he joined Berkshire Securities, where he first met his greatest business influence, Michael Lee-Chin, executive chairman of Mandeville parent company Portland Holdings.
"He is a unique individual," Laferriere says. "He is the only advisor on the Forbes billionaire list, but he is very approachable. He taught me that to be successful, you need three things: to find a role model, ask for their recipe and do the same thing. I have worked with Michael for 20 years; he has been the most influential person I have met."
Democratizing investments
Laferriere's passion for working with advisors fit well with the way Mandeville approaches wealth management.
"If you look at the world's most successful institutional and affluent investors like pension boards and family offices, they invest differently," he explains. "The have created wealth by investing in a combination of public, private and alternative investments. What Mandeville is doing is democratizing opportunities for wealth creation by providing all wealth-seeking investors with access to private and alternative investments typically reserved for affluent and institutional investors.
"They have to be quality investments and be backed by a successful track record, which Mandeville has established," he adds. "We started with a clean sheet and have been able to re-engineer the way portfolios are constructed. We are able to pull the strategies used by the wealthy and apply them to the next income level."
By providing greater access for all investors, Laferriere believes Mandeville is helping advisors as the industry evolves. Moving forward, he says, advisors must demonstrate their value and differentiation, and access to private investments can be a big part of that.
"The challenge is engaging regulators and lawyers, because systems are designed for publicly listed companies," Laferriere says. "It can be hard for private investments because they may not have a bid or ask price."
The other main challenge is resetting how the typical investor thinks about private investments. "With this new thinking, we have laid the foundation and built the tools for our advisors, but it is a reset on how portfolios are constructed," Laferriere says. "There is a premium investors are paying by limiting their investments to public securities when the otherwise similar private security may be available at a 25% to 40% discount for no apparent additional risk. There's a certain degree of liquidity investors may need [from public securities], but I would challenge the fact that most investors do not need 100% liquidity, which is the commonplace practice in the industry. When the objective is wealth creation, wouldn't you want to optimize your returns by taking advantage of the illiquidity discount on private securities?"
Tools of the trade
To provide access to private investments, Mandeville has equipped its advisors with numerous tools, including a private separately managed account [SMA] program and a private asset allocation tool. Laferriere also touts the benefits of Mandeville's digital platform – and the firm currently has an app in the works to improve its efficiency.
"We realize that investors have different needs and prefer to communicate in different ways," he says. "Some investors still like having face-to-face meetings and prefer to receive hard copies of statements, etc., while other investors, like millennials, prefer a digital experience."
Another Mandeville initiative Laferriere is proud of is the firm's efforts to actively engage all generations of a client household in the financial planning experience. He notes that the significant personal wealth expected to be transferred from one generation to the next in Canada in the coming years will result in a significant shift in investor demographics in favour of women and millennials.
"These are all reasons why we need to engage with the entire family of clients," he says. "It's just the new reality."
Having Lee-Chin at the helm of the firm has helped Mandeville implement such forward-thinking initiatives.
"With Michael being an advisor himself and an owner of banks in the Caribbean, he understands the significance of these ideas when we bring them up," Laferriere says. "More importantly, he has the capabilities to help implement them across the network."
When it comes to the industry as a whole, Laferriere's outlook is nothing but positive; he foresees great potential for prosperity. Living by the mantra to "always place the client at the forefront, embrace and be an agent of change" has served him well in his career.