TD Asset Management is on a mission to help investors navigate today's challenging investment backdrop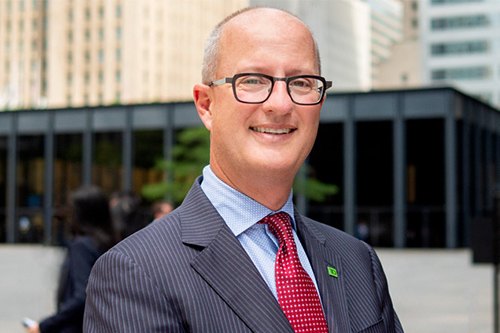 Given the increasing difficulties and threats in the asset management industry, it's easy to understand why some would see specialization and focusing on specific niches as the path forward. But Bruce Cooper has a different perspective.
"You need to provide value for your clients. Ultimately, our clients will get to assess whether we survive or not," the CEO of TD Asset Management (TDAM) told Wealth Professional. "I could see a world where there's a handful of niche providers specializing in small-cap equities or whatever it may be. But that's not what we want; we want to provide broad-based solutions for investors."
To Cooper, the need for diverse solutions is clear given the current investment backdrop. The low interest-rate environment, which TDAM believes will remain low for a long period of time, is an obvious challenge for income-seeking clients. Equities, on the other hand, will be a difficult area to wade into as macroeconomic uncertainty and political headwinds create volatility.
"How do we create diversification that lets our clients navigate this complex environment with as little time on the roller coaster as possible? When I boil it down, what I think our clients need is diversified sources of income," he said.
In light of that, TDAM has been increasing the diversity of its investment offerings, including its ETFs. In May this year, the firm launched three new ETFs, including a low-volatility strategy, an active dividend ETF, and a tech leaders index ETF. More recently in November, it launched 10 new ETFs that covered fixed income, quantitative, and real estate-focused strategies.
"We have a vision of having somewhere between 30 and 40 ETFs on our shelf," Cooper said. "We're planning more launches in 2020, including one in spring and another one probably in the fall."
That vision is supported by the firm's investing capabilities, which Cooper said have been built on a track record of success and a philosophy of excellence in mutual funds. On the fixed income side, he highlighted the firm's 30-year emphasis on corporate bonds and expertise in high yield made possible by the global reach of its credit team, currently composed of 10 people split between offices in New York and Toronto. And with an institutional fixed-income book amounting to some $160 billion, it's probably fair to say that TDAM is among Canada's more preeminent fixed-income shops.
The firm's quantitative investing franchise, he added, has become extremely important; its quantitative equities group was among the first in the world to focus on low-volatility equities. Last year's acquisition of Greystone Managed Investments, now TD Greystone Asset Management, also brought decades of private real-estate portfolio management to the TDAM table.