Sun Life Financial president and CEO Dean Connor outlines how his company has emerged as an innovation leader in financial services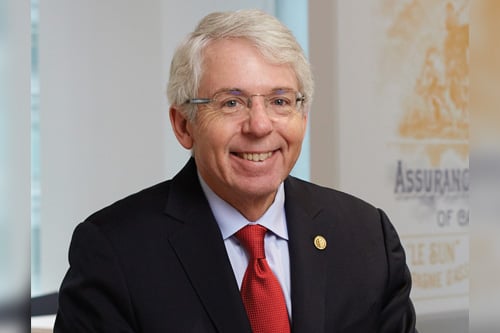 In business, constant evolution is a necessity. A failure to move with the times isn't an accusation that can easily be levelled at
Sun Life Financial
, however. The life insurance sector isn't best known for innovation, but that reputation is slowly shifting, according to Sun Life president and CEO Dean Connor. He believes his firm has really emerged as an agent of change in the sector, especially in 2017.
"I think what is missed when people comment on that is all the innovations we have created," Connor says. "I think Sun Life is at the forefront of what is going on in the world, and we as Canadians should be proud of what we have here."
Moving forward
This September, Sun Life Financial unveiled its new global headquarters in Toronto, a state-of-the-art digital hub that emphasizes sustainability. It's an impressive structure – the huge Sun Life Financial sign on its façade is immediately recognizable to anyone landing at nearby Billy Bishop Airport. But much more than a high-end place to work, it's a symbol of where Connor and the Sun Life leadership see the company heading.
"We have rolled out a mobile app that is the first of its kind for group benefits and pensions," Connor says. "You can take a picture of your group claim receipt, submit it, it is real-time adjudicated, and the money is in your bank account in 24 hours."
Another addition is the company's provider search lookup, which launched last fall and recently crossed more than 2 million ratings in Canada, as well as its Digital Benefits Assistant, a client engagement platform launched in 2016. Using technology to enhance convenience for consumers is the focal point of the platform, Connor says.
"It started with the realization that Sun Life is the single largest private-sector payer of healthcare in Canada – $8 billion a year for pharmaceuticals, semi-private hospital, out-of-country medical, dental and so on," he says.
The company has since added to the capability of the Digital Benefits Assistant with its Ella offering, which uses advanced analytics and Big Data technology to provide advice for clients at key life moments.
"We are building a business to use all our data; we process 60 million health claims a year in Canada, over 1 million a week, and we use all that data to help Canadians get more from their benefits plan," Connor says. "Ultimately, we will take the Digital Benefits Assistant over to the retail world for wealth and insurance."
A program that offers such guidance might sound like cause for concern among advisors – after all, the limits of artificial intelligence are still very much a mystery.
According to the Connor, however, these digital platforms represent an opportunity rather than a threat.
"It's not to replace advisors; it's to supplement what advisors do," he says. "It is responsive to the point that clients raise, which is 'I don't see my advisor enough.' This doesn't replace the face-to-face, but if you have a savings plan for retirement, when you apply the digital assistant, it will nudge people and help them get to their goals. Ella takes all of that and adds a voice and personality, so it's not just a text message you receive."
Allowing a program like Ella to handle the minutiae of financial planning, Connor explains, means freeing up more time for the most important parts of the job, which will enable advisors to increase their value proposition to clients.
"If I were a young advisor today coming into the business, I would be all over this," he says. "If there is stuff they don't like to do, like asking underwriting questions about health or processing address changes, they can now do that digitally. An advisor can use the Digital Planning Assistant to tell them when to call a client, such as after the birth of a child."
Digital enhancement
Predictive analytics will be a central pillar of the life and health insurance industry in the future, and it's clearly a priority for Sun Life. In Connor's view, his company is the industry leader on Big Data, but that does present its own set of challenges.
"It's finding the right line on how to use your data," he says. "It's the line between creepy and cool, and we have spent time making sure we stay on the right side of the cool line. But if we can be more predictive and personalized and reach out to people at the right moments in their lives, we can really help them."
Established in 1865, Sun Life Financial now has operations in Canada, the US, the UK, Ireland, Hong Kong, the Philippines, Japan, Indonesia, India, China, Australia, Singapore, Vietnam, Malaysia and Bermuda. Although insurance remains the bedrock of its business, wealth management has been steadily increasing in significance – total wealth sales grew by 12% in the last quarter. It's clear that digital offerings will be central to the firm's evolution, both in insurance and wealth. Regardless, Connor confirms that Sun Life is fully committed to the distribution model that has served it so well up until this point.
"When you look at purely digital companies, they start out purely digital and then add bricks and mortar," he says. "Amazon has bought Whole Foods; Frank & Oak has opened stores. We started with our equivalent of bricks and mortar – advisors – and now we are adding digital. I think all these predictive personality tools will do two things: increase the demand for advisors and increase their productivity."